These are the most metal shoes EVER! (UPDATE: Sorry. Sold out. And there's now a lawsuit.)
Footwear is important to musicians. It's nice if it's functional, but it's far more important to look good and to make a statement. And few kicks will make the kind of statement as the Nike Air Max 97s, otherwise known as the limited edition "Satan shoe."
Designed by MSCHF with the help of Lil Nas X (not very metal, I know, but…) the new shoes allegedly contain a drop of actual human blood. And as you can see by the picture, they come with a nifty pentagram medallion over the tongue and on the heel of the inner sole.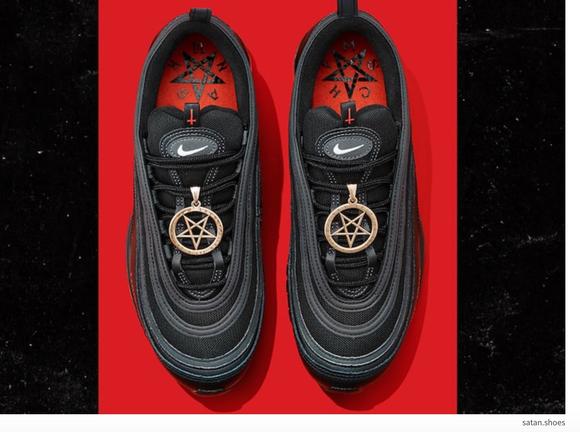 Only 666 pairs will be available with each selling for US$1,018. Why that number? The answer lies in Luke 10:18. I quote: "So He told them, 'I saw Satan fall like lightning from heaven.'" That verse is written on the side of each show. And they come in an appropriately hellish box, too.
Nike would like everyone to know that they have nothing to do with the creation or sale of these shoes. They're just suppliers of the unmodified shoe. They do come with a swoosh, though. I quote from them: "We do not have a relationship with Little Nas X or MSCHF. Nike did not design or release these shoes and we do not endorse them."
Shoe fans might consider this MSCHF's balancing of the scales. They also put out a pair of similar "Jesus Shoes" (also Air Max 97s) which featured a drop of "holy water" from the River Jordan on the soul.
UPDATE: When the shoes went on sale this morning, they sold out in under a minute. That was a fast US$677,988.
UPDATE TO THE UPDATE: Nike isn't happy. They're suing. I quote:
"Nike has not [approved] and does not [approve] of MSCHF's customised Satan Shoes. Moreover, MSCHF and its unauthorised Satan Shoes are likely to cause confusion and dilution and create an erroneous association between MSCHF's products and Nike. In fact, there is already evidence of significant confusion and dilution occurring in the marketplace, including calls to boycott Nike in response to the launch of MSCHF's Satan Shoes, based on the mistaken belief that Nike has authorised or approved this product."