They're Talking About the Future of Radio in India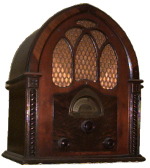 JMJ forwarded this article from an Indian tech blog called NH7.in:
When I was about 13, I wasn't particularly into music (at least not in the way that I am now). Almost all of the music that constituted my world was the Smashing Pumpkins and despite the fact that it sounded great, I didn't really understand the rage. Enter FM radio stations.
The radio, before the internet, showed me why this music mattered. I heard about Elvis and Buddy Holly and the rebellious nature of rock 'n roll. I began to understand how musical eras progressed and the artists that made this progression happen. I gained a perspective about the music being played and with it, my desire to understand it grew. If it weren't for radio, my relationship with music would have stayed casual.
Even with all the other sort-of-awful-non-interesting music they played along with the good stuff, radio still made for an important part of my musical education. It also gave me a tolerability quotient; I can at least understand why popular music (of the not-so-good kind) is popular and that alone is a boon in understanding why other styles of music that are, in my opinion, better, aren't as popular. Listening to radio anywhere should give you a decent idea of what most people in the area you're in find entertaining.