Think File-Sharing is Dead? Think Again.
I haven't bothered downloading/torrenting any music for years.  It's just too much trouble–and I'd rather see artists get paid for their work.  But according to GigaOm, here are millions–hundreds of millions–of people for whom P2P is still a way of life.  And the number two nation for illegal downloading of music?  Canada.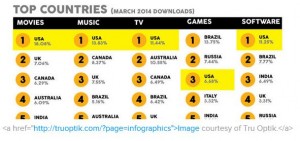 From GigaOm:
Surprise: P2P isn't dead, after all. 300 million users swap files via BitTorrent every month, according to new numbers from media intelligence startup Tru Optik, which estimates that every month, more movies and TV shows get downloaded by file sharers than are sold on iTunes, Google Play and Amazon together.
And we're not just talking about users in countries where media would otherwise be inaccessible. Users in the U.S. download more movies, TV shows, music and software than any other country, according to Tru Optik. The only exception to this rule is video games, where users in Brazil are more active than their U.S. counterparts.