This DOES Have to Do With Music: How to Potty Train Your Cat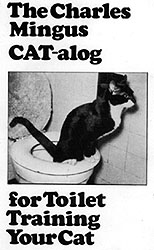 I'm not much of a fan of jazz, so forgive me, jazz people, if this is already common lore.
Charles Mingus was one of the most important, most innovative bass players the world has ever seen. He was a little prickly at times, prone to outbursts when he or fellow musicians weren't up to his high standards.
Mingus died in 1979, but his legacy and his recordings live on. And so does his method for potty-training cats.
If you look at Mingus' official website, you'll run across something called The Charles Mingus Cat Toilet Training Program. I'm serious. And you're welcome.