This Is Fun: New Vinyl Converts Talk About Playing Vinyl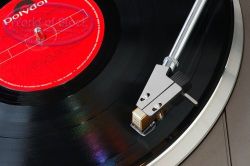 Although vinyl sales are still miniscule when compared to CDs and digital downloads and always will be, the Cult of Vinyl keeps growing. And once you're in, you may never want to get out.
CNet has this story on music lovers who are recent converts to the format.
I first chatted with Ariel, a 34-year-old woman who just bought a turntable. I could hear the excitement in her voice as she recounted her memories of playing her dad's reggae records when she was 7 or 8 years old. Ariel has his collection now and appreciates the richness of those old LPs. The Rolling Stones "Beggar's Banquet" has been in heavy rotation lately, and Ariel noticed that when she plays LPs she's more likely to stop multitasking and really focus on the music.
She kept saying, "Records are beautiful, they're beautiful," and noted that listening to 1960s and 1970s music that was originally released on vinyl is like reading literature in the original language — the music makes more sense. Ariel still listens to a lot of music on the go, but appreciates how much more rewarding the vinyl experience is.
Matt, 40, just recently got an old Dual turntable. He grew up playing a boombox and a cassette player, then moved on to CDs and files. He had LPs from the Pearl Jam Club and from Jack White's Third Man Records, long before he had the Dual. Like Ariel, Matt discovered that he paid more attention to music when he was playing records than FLAC files.
He's surprised how different and better the Black Keys sound on vinyl. For him it's all about the difference between background and foreground listening; digital is fine when he's washing dishes, but when he's really going to focus on the tunes, it's got to be on LP. Matt lives near Philadelphia.