This May Make You Think Twice About Getting a Tattoo of Your Favourite Band
The Lostprophets were a pretty decent band from Wales until it was discovered that their lead singer, Ian Watkins, was a super-sick pedophile who is now rotting in jail for committing some horrific acts of child abuse. The rest of the band was decimated. They had no idea that the guy out front was such a sick freak.
The group had plenty of fans, too, including Ellia Beasley, who loved the band so much that in 2012, she had some of the lyrics of the song "Rooftops" tattooed on her stomach. After the shit hit the fan with Watkins, the regrets set in. The tattoo had to go.
But instead of laser removal, she found a tattoo artist who was willing to obscure the original design with a new one.  It took more than ten hours to cover it up. The design went from this…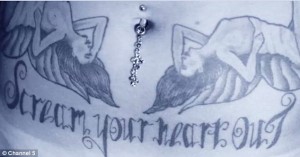 …to this…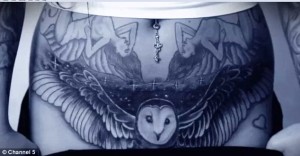 You read the whole story at The Daily Mail.