This Picture Got This Musician Banned from Instagram (Maybe a Little NSFW)
The guy's name is Arca, an experimental producer who has found favour with Bjork, FKA twigs, Kanye and a variety of other artists who like to try different things. But this past week Arca was permanently banned from Instagram after posting the artwork for his new single, "Vanity."  See if you can guess why.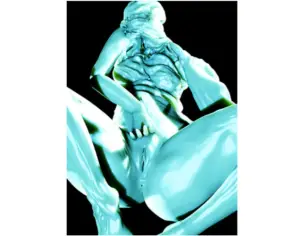 So what do we have here? A cyborg-y vagina and anus? And does this really ban Instagrams's turns of service? That's what this really comes down to Read about the entire controversy at Jezebel. Oh, and here's the song.
[soundcloud url="https://api.soundcloud.com/tracks/208144455″ params="auto_play=false&hide_related=false&show_comments=true&show_user=true&show_reposts=false&visual=true" width="100%" height="450″ iframe="true" /]