This Sunday, there's a big Canadian benefit to support foodbanks during COVID-19 (UPDATED WITH EVEN MORE PERFORMERS)
[Updated with more performers at 8 am April 23.]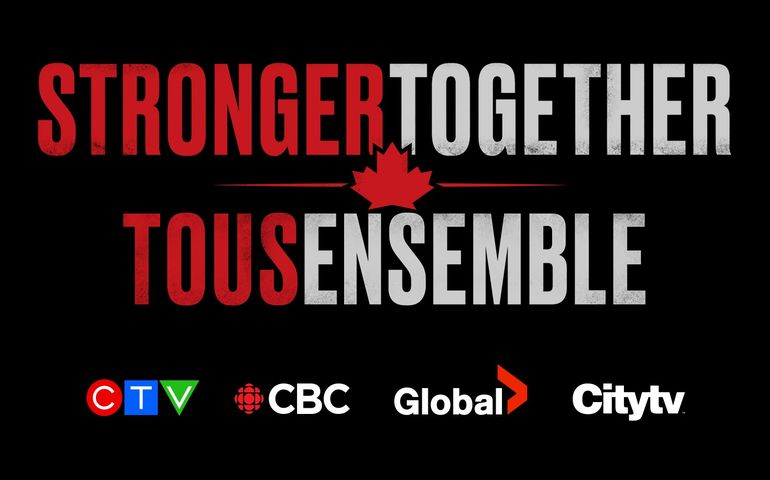 A lot of people in this country are suffering greatly because of the coronavirus crisis, many of whom are the most vulnerable Canadians. They need help.
This coming Sunday, major and secondary Canadian broadcasters are going to stage a one-hour commercial-free multi-platform (120 of them!!) event (TV, radio, online) Sunday night at 6:30 pm ET (notice the time change from 7 pm ET) to help with the supply chains that keep the country's foodbanks stocked. The goal is to raise $150 million.
To donate, text COVID to 30333 to donate $5, $10, $20 or more. If you want to donated out online, go here.
Confirmed to appear so far are:
Alessia Cara
Arkells
Avril Lavigne
Barenaked Ladies
Bianca Andreescu
Bryan Adams
Buffy Sainte-Marie
Burton Cummings
Catherine O'Hara & Annie Murphy
Celine Dion
Charlotte Cardin
Chris Hadfield
Cirque du Soleil
Connor McDavid
Dallas Green
Dan & Eugene Levy
David Foster
David Suzuki
Eric McCormack
Geddy Lee
Hayley Wickenheiser
Howie Mandel
Jann Arden
Justin Bieber
Kiefer Sutherland
Margaret Atwood
Marie-Mai
Michael Buble
Mike Myers
Morgan Rielly
Penny Oleksiak
Rick Hansen
Rick Mercer
Robbie Robertson
Russell Peters
Ryan Reynolds
Sarah McLachlan
Serge Ibaka
Shania Twain
Sofia Reyes
Tessa Virtue
Will Arnett
William Prince
44 TV Platforms:
ABC Spark, ATN HD, ATN LIFE, ATN PUNJABI PLUS, ATN PM ONE, ATN TAMIL (JAYA TV), ATN GUJARATI, ATN BANGLA, ATN CRICKET PLUS, ATN FOOD FOOD, APTN, A.Side, BBC Earth, CBC, CBN, Citytv, Cottage Life, CP24, CTV, CTV2, FX, Family Channel, Global, HIFI, Hollywood Suite 2000s, ICI ARTV, Love Nature, MUCH, MTV, National Geographic, Makeful, NTV, OMNI Television, OUTtv, SériesPlus, Slice, Smithsonian Channel Canada, Stingray Hits, Stingray Retro, Super Channel Fuse, TSN, Unis TV, V, VRAK
12 Streaming Platforms:
CBC.ca, CBC Gem, CBC Listen app, CTV.ca, CTV app, Citytv.com, ETCanada.com, Global TV app, GlobalTV.com, GlobalNews.ca, iHeartRadio.ca, iHeartRadio Canada app
53 Radio Platforms:
CBC Music, CBC Radio One, EZ Rock, Sirius XM Channel 169, Virgin Radio as well as additional stations from Arctic Radio, Bell Media, Blackburn, First Peoples Radio, Harvard, Pattison, Rawlco, Stingray, and Vista radio networks
11 On Demand Platforms:
CBC Gem, Crave, CTV.ca, CTV app, Global TV app, GlobalTV.com, ICI TOU.TV, iHeartRadio.ca, iHeartRadio Canada app, Stingray Qello, Super Channel On Demand