This Toronto rapper is NBA-bound. Meet CHOSENB01.
Since the inception of hip-hop it has become intertwined into the fabric of basketball and the two are now synonymous with each other. There is a DJ in the building playing the latest hip-hop hits during every NBA game while every televised or online highlight you see is layered with the latest beats and lyrics from the who's who of hip-hop.
Nowhere is that more evident than in Toronto where the countries only NBA franchise the Raptors have a rapper on their payroll (Drake) who is listed as the team's official global ambassador.
There has of course been the inevitable trickle-down effect from that relationship between Drake and the Toronto Raptors which has become apparent through 18-year-old Toronto native Jonathan Kabongo.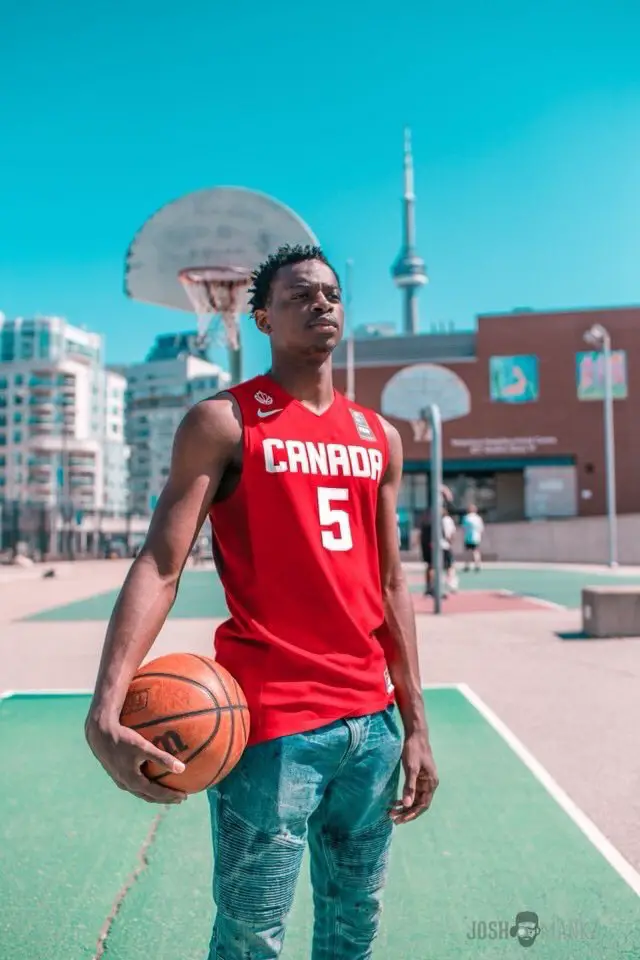 Kabongo is set to release his latest mixtape on June 11 under the name Chosen B01.
Meanwhile, he is also preparing to suit up this fall for Virginia Tech University on a full basketball scholarship at one of the top programs in the United States.
Kabongo recently played in the Bio Steel All-Canadian game in Toronto which airs nationally on TSN and features the premier high-school basketball players in the country. Most of the players will be suiting up for some of the biggest universities across the U.S next season with their games being featured on ESPN and CBS on a weekly basis.
Not only does Kabongo have the skills and potential to someday play in the NBA but he is also as equally as skilled on the microphone and has potential to make a full-time career as a recording artist.
However, Kabongo isn't interested in being put into one box or the other and seems focused on pursuing both of his passions to the fullest.
Kabongo said, "In five years from now I see myself playing at the highest level (NBA) and I want to make music while I do that." He added, "I see (NBA) guys like Damian Lillard doing that as well as guys from the past like Shaq and Kobe (Bryant) and I feel its possible to make a career out of both."
While speaking with Kabongo you get the sense that the young man from the Pape and Danforth area of Toronto is wise beyond his years and that is reflected in his music. He is also the youngest child in a family that has achieved plenty of success of their own.
His older brother Emmanuel is an accomplished actor who has appeared in dozens of films and TV shows including a role in the current Netflix series "21 Thunder." His older sister Vanessa also had a scholarship to play basketball at Delaware University and has suited up for Canada while his other brother Myck was a star at the University of Texas and now plays professionally in Europe.
Kabongo started recording songs in between his time on the court at the age of 16 and it was not long after that he suffered a back injury that left him out of action for almost a year. Instead of sitting around feeling sorry for himself while his basketball career was on hold he decided to put his time and energy into his other passion: music.
He said, "A lot of this mixtape is just me in that space trying to be uplifting for myself and staying motivated and hungry."
Due to NCAA rules and regulations, college basketball players are not allowed to make money in any way while they are under scholarship and so Kabongo is not allowed to sell his music on iTunes or any streaming sites. For now, he is simply releasing his music for free via his Soundcloud and YouTube pages.
There are often parallels between music and sports. Many music agents and basketball coaches are often looking for the same qualities in young athletes and performers. They are all looking for somebody with that "it" quality.
Jonathan Kabongo has that "it" quality on the basketball court and in the recording booth.
Listen to more ChosenB01 on SoundCloud.
(Text by Chris McKee)