This trailer is an early ancestor of your smartphone. It weighed 20 tons and required a refrigeration unit.
Your smartphone is a marvelous piece of technology, a lot of computing power jammed into something you can put in your pocket. Now rewind to the early days of computer and consider that a device with far less power needed to be hauled around in a trailer. Two of them, in fact, because this late 50s/early 60s machine weighed 20 tons. This is what passed for a "portable computer" back in the day.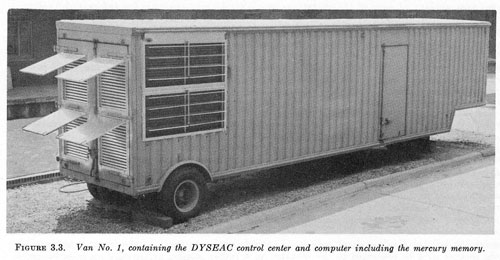 I found this story on old computers at Tedium.com.
Looking at a picture of the DYSEAC, it's bizarre to think that anything so huge and unwieldy would be considered "mobile" or "portable," but in the context of 1950s computing—before a time when most people even had the chance to sit in the vicinity of a computer, let alone use one—it sort of made sense.
The machine, produced by the National Bureau of Standards (NBS) at the behest of the U.S. Army Signal Corps, is widely believed to be one of the first computers designed to be transported around. But the machine, based on the earlier SEAC computer produced by NBS in 1950, may have been the least-portable "portable" device ever created.
Per a 1961 survey of the computer industry by the Ballistic Research Laboratories, the computer weighed 20 tons and required two separate trailers to function.