This Week on the Secret History of Rock: Episode 9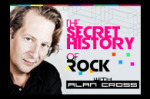 The new show is in the can and is ready to be aired on the mightly SHoR Network (check the stations list in the left-hand column for cities and showtimes.)
If you can't hear it on the radio, we'll have it posted for you for on-demand listening in the player in the right-hand column by earlier next week.
Here's the topic list for Episode 9:
Space
Death as a Career Move
Husband and Wife Teams
A Look Back to 1998
A Brief History of Selling Out
More Useless Information
Some of the artists you'll hear includes the White Stripes, the Clash, Strange Advance, Fastball (remembe them?), Pixies, Foo Fighters, Joy Division, Sublime, Blind Melon, Timbuk 3 and more.