Thursday Morning Music News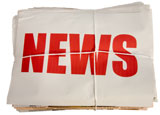 A very smart man once told me that the hardest-working time of the year the period from the beginning of September to the end of November.  "Think about," he said.  "September, October and November is back to school time and the start of a new fiscal year for many companies.  Meanwhile, the weather starts to turn, so people's attention is on work.  
"But then comes December and we're all about Christmas.  We do some work in January and February, but many people steal away for sunshine vacations.  March is all about spring break for the kids.  Then, with the nicer weather in April, we start drifting outside because we're tired of winter.  By mid-May, we've all got spring fever.  And forget about getting anything meaningful done in June, July and August."
In other words, the only time of year here in the northern hemisphere when everyone agrees that it's time to get down to work begins today.
The good news?  It only lasts three months.  Bring on Christmas, I say.
Meanwhile, where's some music news to start the month.
Depressed that it's September?  Here's a sign of (next) summer.  Tickets for the 2012 Reading and Leeds Festivals go on sale today.
Have some old CDs lying around the house?  Wish you had a fancy rainfall shower head?  You're in luck.  Here's a fall home project that solves both problems.
Speaking of things for around the house, this is very cool.  They're called MusicLites and they take music to places in your house without the hassle of wiring.
Tired of not being able to access certain online content because you don't live in Canada or the UK?  Then try Tunnelbear.
You won't need Tunnelbear for YouTube video rentals anymore because the service has finally come to Canada.
Speaking of applications, if you have an iPad, you MUST try an app called Zite.  Awesomeness.  I like it better than Flipboard. (Please CNN, don't f*ck it up.)
David Bowie's "Space Oddity" has been turned into a really cool illustrated book for kids.  (Um, I think Major Tom dies at the end; this could result in nightmares).  Get a free PDF download of the whole thing here.
Today is No Music Day in Nigeria.