Thursday Timesuck: Four Weird Music Stories About Dildos, UFOs, Hoodies and Jagermeister
Item 1:  The headline at Loudwire reads: "Kid Rock Subpoenaed to Produce Sex Toy for Insane Clown Posse Case."  Baffling yet intriguing, no?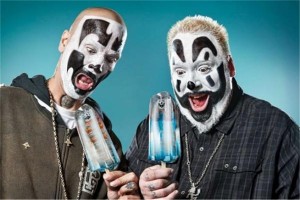 Turns out that there's a sexual harassment case within the ICP organization and a judge has ordered Kid Rock to give back a glass dildo given to him by ICP as a gift (how thoughtful!) because it may be potential evidence in the trial. The full story can be found at the Detroit Free Press.
Item 2:  Metal drummer may have filmed a UFO.
Former Megadeth drummer Nick Menza was looking into the sky over Studio City, California, on the night of July 14 and saw this.
I think this qualifies him to be on Shaun Ryder's UFO show.
Item 3:  The sound engineer hoodie.
Yes, it's a hoodie designed just for sound guys. Its big selling point are the transparent acoustic panels in the hood itself.
More information at Gizmag.
Item 4:  The Jagermeister Festival Friend Finder.
Keep track of up to three drunken friends with this new tagging device.  More details here.