Thursday's Round-Up of News Surrounding the Death of Gord Downie
It's going to take an awful long time to come to terms with the passing of Gord Downie. Meanwhile, let's try to keep up to date on the coverage of his death and the ripples it has sent across the country and around the world.
Radio Went Hip-Crazy Yesterday
Virtually every radio station in the country pulled out all the stops when it came to playing Tragically Hip songs yesterday. Airplay for Hip material increased by 1500% on Wednesday. Full details on the increases in radio play, streaming, album sales and digital downloads will be available by this time next week. This data is interesting in that it gives us another perspective on the impact the passing of an artist has.
Flying the Flag at Half-Mast
On the day of Gord's funeral or memorial, the flag on the Peace Tower in Ottawa will be flown at half-mast until Sunset.
Hamilton Wants to Honour Gord
City councilors in Hamilton voted unanimously to honour Gord with a plaque at the First Ontario Place Arena.
Buffalo Remembers Gord
Hip fans in Buffalo–probably the home to the biggest pocket of Hip fans outside of Canada–are grieving with us. This mural is on Hertel Avenue. (Hey, Gord remembered Buffalo in "At the Hundredth Meridian." They won't forget him.) There's also this story.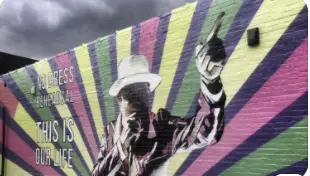 International Tributes Keep Coming In
Here's a story on Gord from Australia. And another one, too.
Gord's Plight Helped Raise a Lot of Money for Brain Cancer Research
As of this week, the Gord Downie Fund for Brain Cancer Research has raised $1.7 million. A lot of that has come from grassroots initiatives started by fans.