Tickets for Second Branch of Joshua Tree Tour Still Available. Really.
Tickets went on sale Monday morning for the next round of U2's Joshua Tree tour, celebrating the 30th anniversary of the landmark album. By Monday night, many seats were still available – and not just on the secondary market.
There were 1,500 or more seats still available for an early September show at New Era Field, the football stadium where the Buffalo Bills play.
The sections below in light and dark blue still have seats available; the grey sections are those that are sold out: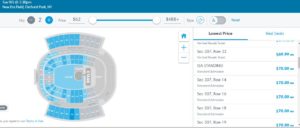 Some sections have more than 100 seats available; others have as few as six seats, as of Monday night.
The same is also true at Ford Field in Detroit…

…and in Indianapolis…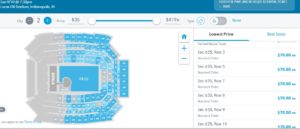 …and QualComm Stadium in San Diego: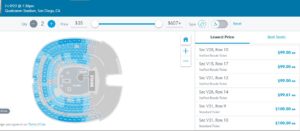 So what do these venues have in common?
The US federal laws on bots and a whole lot of seats.
When the Joshua Tree tour went on sale in Toronto, for a June 23 date at the Rogers Centre, all 50,000 seats sold out in under 10 minutes. Well, to be fair, it was only about 10,000 of the 50,000 seats, with the other 40,000 going through various presale avenues. And, to be transparent, a large number of those seats are still available on secondary markets ranging from StubHub to Ticketmaster's on Verified Resale platform.
But in the States, while some shows on the first leg of the tour, including Chicago and Dallas, appeared to sell out right away, other cities still have seats available.
Remember that, at the very end of his administration, President Obama signed a law making it illegal to use ticket bots, those software-based programs that buy up tickets the nanosecond they go on sale.
Also, we're talking about NFL stadiums. On average, we're talking about well over 50,000 seats per venue. It's really difficult to sell that many seats.
But what puts New Era Field, which is also hosting Guns 'n' Roses this summer, in a slightly different situation is its location in New York. Even before Obama signed the federal legislation, New York's Governor, Andrew Cuomo, signed state legislation that some think is more biting and tougher than the federal law. The fine for a first offense if caught using ticket bots in New York State? $1,500 and a misdemeanor criminal charge.  The federal law allows state governments to bring civil suits to the US district court on behalf of customers and seek to obtain damages, restitution or other compensation; the Federal Trade Commission also can intervene in those cases.
So if you missed out on one of the first shows on the Joshua Tree tour, maybe it's time to consider a road trip if you don't want to buy on the secondary market.