Today Marks 11 Years Since the Release of the Last Tool Album
It was Tuesday, May 2, 2006. Album release day. Stores began selling new records from Snow Patrol (Eyes Open), Pearl Jam (their self-titled record), Wolfmother (their self-titled debut) and Ministry (Rio Grande Blood). Also on the racks that day was the fourth album from Tool, 10,000 Days.
Since then, nothing.
Eleven years between albums is a long time. And sure, a lot of the delay wasn't Tool's fault. They were locked in a complex series of suits and counter-suits with their record label and an insurance company, an ordeal that prevented them from recording and releasing anything. But even after everything was sorted out–we heard of settlements in March 2015–no new music was forthcoming despite reassurances that it was. Here's a timeline:
2013: Conflicting reports from Maynard James Keenan and Danny Carey over when a new album might be released. "Early 2014," we were told.
May 2013: "We're now writing together," says Maynard.
March 6, 2014: A report of Adam Jones confirming that the new album was finished and would be released later that year.
July 15, 2014: "Sorry for the delay, but that lawsuit and family commitments are slowing us down."
March 2015: "Now that the lawsuit is settled, our focus has turned to toward making a new album. We want it out by the end of 2015."
November 2016: Maynard tells me that he hasn't even started recording his vocals yet because the music wasn't done.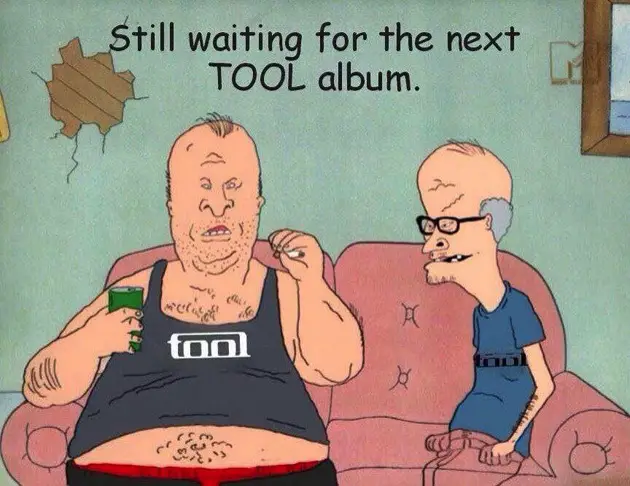 February 2017: Maynard reportedly enters the studio to work on vocals.
April 2017: Danny Carey says that the band hopes to go into the studio this fall.
To put everything in perspective, here's a look back to May 2, 2006.
There was no such thing as an iPhone. Its release was still two years away.
North Korea had its first nuclear test that month.
George W. Bush was still president. Most of us hadn't even heard of Barrack Obama yet.
Spotify wouldn't exist for another two years.
A 16-year-old-girl named Taylor Swift released her first single.
Avril Lavigne was getting ready to marry Deryck Whibley of Sum 41.
NASA had just launched the New Horizons spacecraft towards Pluto. It has since passed Pluot and is already into the Kuiper Belt. In other words, you can leave the solar system in less time that it takes to make a Tool album.
I have a feeling that we'll be talking about the 12th anniversary of the release of 10,000 Days before we hear any new music.