Tool is about to release a new "expanded book edition" of Fear Inoculum
After a highly successful launch of the insanely complex Fear Inoculum CD package (an built-in HD video screen? C'mon!), you'd think that Tool would follow that up with a standard (and much cheaper) CD edition or a regular vinyl LP. But noooooooo. This is Tool, after all.
Just in time for Christmas–release date is December 13–comes an "expanded book edition" of the album. It includes:
5 x 3D lenticular cards with exclusive graphics,
expanded 56 page booklet with additional never-before-seen art
a download of the immersive visual experience (video), "Recusant Ad Infinitum,"
a CD copy of the album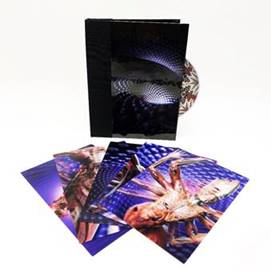 Tool diehards will be all over this. Those who haven't been able to secure a copy of the ultra-deluxe edition–it's now sold out–will have to make do with this. Pre-order here. Amazon has it for less than CAD$40.
Now. About that vinyl edition…