Tool is Back to Making April Fool's Pranks. All Is Right with the World.
In an encouraging sign that things are well within Tool, the band launched another April Fool's joke in the tradition of past gags like a mass conversion to fundamentalist Christianity and a horrific tour bus accident.
Yesterday's prank involved a fake leak of new music–something that was bound to get attention given that Tool hasn't released any new material in almost nine years.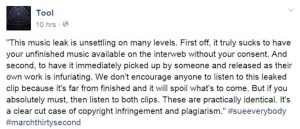 And here's the music that allegedly leaked: