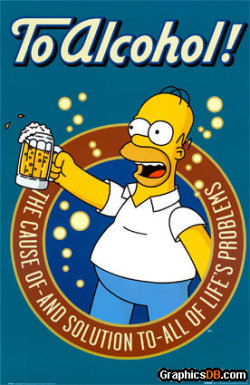 [A worthy list compiled by contributor Brent Chittenden. – AC]
Saturday is St. Patrick's Day. The day a Jebediah Springfield drove the snakes of Ireland into the sea.  Or something like that.  I always get that story mixed up with the Whacking Day episode from The Simpsons.
In honour of this day of snakes and drinking, here's a list of the top ten drinking songs.
1.  Metallica – Whiskey in the Jar
Okay, so this song might not be completely about drinking (although I  always got the impression that the main character got drunk and passed out hence his capture) but it is Irish in origin, it also has the word whiskey in the title and this version is played be Metallica in Ireland. Therefore I declare it a drinking song.
2.  Brad Paisely – Alcohol
I'm not usually one for country and I'm even less for "new" country but country music on a whole has always had drinking as a staple theme. This song by Brad Paisely is not only decent but it's pretty much true. 
3.  Tom Waits – The Piano Has Been Drinking
Kind of like country music, bars and drinking are a bit of a theme in the work of Tom Waits but this song in particular fits this list best.
4.  George Thorogood and the Destroyers – One Bourbon, One Scotch, One Beer
There have been tons of versions of this song over the years but George Thorogood and The Destroyers do a version that is not only classic but everyone can relate to the tales of poverty and drinking that George presents to us.
5.  George Jones and Willie Nelson – I Gotta Get Drunk
Remember how I mentioned drinking is a strong theme in country music? This time it's all about knowing that you're going to get hammered and the repercussions that follow but being helpless to stop it. You know that friend your significant other doesn't like because every time you hang out it ends with you being plastered? Yeah, this song's pretty much about that except it leaves out the part where you end up sleeping on the couch.
6.  Albert Collins – I Ain't Drunk, I'm Just Drinking
This song is the story about going out with the aforementioned friend and the phone conversations you have with the significant other while out with that friend which leads you to sleeping on the aforementioned couch.
7.  Guns N Roses – Nightrain
It's a song named after a cheap but high alcohol content wine tha the band drank while trying to make it big.  What more is there to say?
8.  Jimmy Buffet – Why Don't We Get Drunk and Screw?
Jimmy Buffet has made a fortune from songs about drinking. Hell, he turned Margarittaville into a chain of restaurants.  However, if I were a staff member at one of those restaurants, especially a waitress, I'd heed these lyrics very carefully.
9.  Snoop Dog – Gin and Juice
Surprisingly well paired with Jimmy Buffet, Snoops anthem for drinking and partying also includes party drinking and smoking etiquette which means this is almost a party public service announcement and should have helped Snoop in any court case he was involved with at the time. 
10.  The Pogues – Whiskey You're The Devil
Nothing says St Patrick's Day like The Pogues, especially considering the amount lead singer Shane MacGowan has been known to drink. Sure, you've heard stories about heavy metal bands like Motley Crue drinking but have you ever heard one about them throwing up on the audience and continuing the show? I think not.