Top 10 Most Annoying Behaviours Seen at Concerts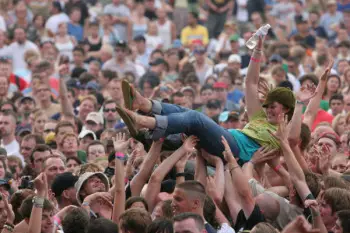 Going to a gig used to be one big communal experience as everyone got lost in what was happening onstage. Not so much anymore thanks to the knobheads who insist on capturing everything through their shitty little mobile phone cameras.
That's my biggest pet peeve when it gomes to going to gigs these days. But there are other behaviours that long predate smart phones.
1. People that push their way to the front. The worst are the ones who use their elbows like Gordie Howe.
2. Careless smokers who wave their butts around with complete disregard about who they might burn. And why are you smoking in the venue in the first place?
3. Drunks who keep shouting out stupid requests.
4. Idiots who sing along with every single song at the top of their lungs. I didn't pay good money to hear you sing, asshole.
5. People who talk and talk and talk and talk and talk, ignoring the show completely.
6. Mosh pit rookies. Learn the rules and the ettiquette before you attempt it.
7. Morons who try to start a pit when there's no call for it.
8. Mosh pit gropers. That's called "sexual assault."
9. Slamdancers at anything other than a hardcore punk show.
10. Idiot who use flashes on their stupid cameras.
Rolling Stone has their own list of ten concert annoyances. Can you think of anything I and they have missed?