Top-Streamed Albums and Tracks on Google Play Music for 2016
Just in time for Canada Day this weekend, Google Play Music has just released their list of top-streamed albums and tracks in Canada for this year.
Canadian artists are beginning to dominate charts around the world, and here in the Great White North we follow the trend and listen to our fair share of fellow Canucks. Drake's Views holds strong in the top spot for the most streamed album and Maritimes rapper Classified takes the number 10 spot with Greatful. Francophone rappers Koriass and Rymz follow just behind in positions 12 and 13, respectively.
For single tracks, Drake claims two of the top three spots. In number one is Rihanna's "Work", featuring Drake and his "One Dance" featuring WizKid and Kyla takes number three. "2 Heads" by Thunder Bay's Coleman Hell remains popular, earning the number seven spot. Alessia Cara's "Here" and Shawn Mendes' "Stitches" land in spots number nine and 11.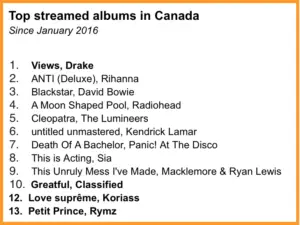 Also, if you're looking for some patriotic playlists to listen to on Friday, GPM has a few to offer. Cozy Canuck Folk features musicians like The Band, Joni Mitchell, Leonard Cohen, and Bruce Cockburn. With New Canadian Indie you can listen to artists such as The Strumbellas, Seoul, and Bahamas. For something a little more upbeat and pop-py, GPM offers Canadian Pop Dance Party with musicians like The Weeknd, Drake, Carly Rae Jepson, Tegan and Sara, and deadmau5. Finally, if you want to listen to some current music happening in Montreal, there's Modern Montreal featuring Arcade Fire, Metric, Cœur de pirate, and many others.