Top Ten Movie Soundtracks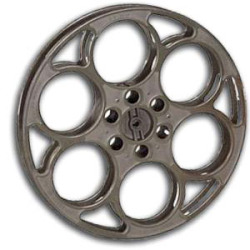 [In honour of the opening of The Avengers, special correspondent Brent Chittenden offers this list of cool soundtracks. Why do I have a feeling there will be plenty of comments? – AC]
Along with music and comics, I'm a huge lover of film. Since I switched over to DVD and Blu-ray, I've amassed quite a collection for myself and due to the fact that I'm also a big fan of music (hence writing for this site), I've also acquired a solid collection of film soundtracks.
A while ago we listed the best soundtracks to bad movies but this time I'm just listing the best modern rock/alt-rock soundtracks. Film scores are not included. We're looking strictly at the best compilation-style modern rock/alt-rock generation soundtracks.
Ready? Here we go.
10) Where The Wild Things Are
Very overlooked soundtrack but it's incredibly well put together. Recorded by Karen O and The Kids (basically the Yeah Yeah Yeahs with members of Dead Weather, Raconteurs and Deerhunter) the soundtrack to Where The Wild Things Are is pretty much an indy pop rock extravaganza.
9) Snatch
Another under the radar soundtrack, Snatch is incredibly well put together and filled with great music. [I'd listen to Guy Ritchie's iPod, especially now that Madonna is out of the picture. – AC] Oasis, Massive Attack, The Stranglers and The Specials, it has a little bit of everything on here for the British music connoisseur and the music fits the film perfectly.
8) Repo Man
A mix of punk and punk like music, this was many a person's first taste of Iggy Pop, The Circle Jerks and Black Flag. The movie isn't for everyone but everyone should give the soundtrack a listen.
7) (500) Days of Summer
A mixture of indie rock with The Smiths and a dash of Hall and Oates, this soundtrack is a great listen for those lazy days and one of the best soundtracks of the last few years.
6) Pump Up The Volume
For many people, myself included, the Pump Up The Volume soundtrack was a great introduction to the alternative music scene. Before this soundtrack I hadn't heard of The Pixies and I knew very little about Sonic Youth. It was a great primer for a young kid who would be interested in this type of music but never heard it. And it has a great rendition of "Kick Out The Jams" by Henry Rollins and Bad Brains
5) Natural Born Killers
With Trent Reznor producing and sculpting this soundtrack, Natural Born Killers is an audio version of the film. It features music from across generations into a sonic film Where else can you hear Bob Dylan, L&, Dr Dre and Nine Inch Nails on the same album?
4) Judgement Night
When Public Enemy and Anthrax did "Bring The Noise," it opened up a few doors. Unfortunately one door was the one Limp Bizkit were hiding behind but the other door had this soundtrack for a not particularly good Emilio Estevez movie. Taking the best alternative acts and matching them up with the best from hip hop, there are some really, really good tracks on this album that are also fairly unique. Found on this album and barely to be performed live. Great album. [Harry Dean Stanton has one of my all-time favourite lines in this movie: "Look at 'em. Ordindary people. I f**kin' hate them." -AC]
3) Singles
This made an appearance on our other soundtrack and I still stand by what I said. Singles is not a particularly good movie but the soundtrack is pretty kick ass. If you ever wanted a perfect snapshot of the Seattle grunge scene, this soundtrack is it–well, minus Nirvana but other than that it has everyone from that era of rock.
2) Trainspotting
Trainspotting's soundtrack is an amazing collection of Brit-pop, electronic with a bit of Lou Reed and Iggy Pop's Berlin years. The soundtrack completely fitted the film and sold enough to warrant a second soundtrack. It also gave Iggy Pop's career a very good public shot in the arm.
1) The Crow
When I was in high school, every single one of my friends had a copy of the album. 18 years later this soundtrack is still amazing. Where Singles focused on grunge, The Crow's soundtrack was filled with the best bands of alternative rock. The most interesting part for me is not only the quality of bands but how many of them are still putting out good material today; Stone Temple Pilots, Trent Reznor, The Cure Those who aren't still around still contribute great music to this album.