The Tragically Hip in Kingston: A Wrap-Up (UPDATED)
Well, that was an exhausting three hours, wasn't it? Funny how my TV looks a lot sharper than it did around 11pm last night when it got very, very blurry. I've heard similar reports from across the country. Strange.
Here's some miscellany from the morning after.
A Lot of Us Watched and Listened
Roughly 11.7 million Canadians–about the 1/3 of the population–participated in the CBC broadcast at some point or another. Here's the press release:
Last night, millions in Canada and around the world gathered around screens and radios and at hundreds of public viewing events worldwide to celebrate Canada's unofficial poet laureates, The Tragically Hip, as they brought down the house in an emotional and historic performance. According to Numeris*, the live, commercial-free broadcast of The Tragically Hip: A National Celebration reached 11.7 million (2+) Canadians across all CBC television, radio and digital platforms as Gord Downie, Paul Langlois, Rob Baker, Gord Sinclair and Johnny Fay played the final date of their Man Machine Poem tour at Kingston's K-Rock Centre. The concert special was also streamed 900,000 times in Canada and around the world. The nearly three-hour Saturday evening broadcast attracted an average minute audience of 4.04 million.
Actually, I think that number–11.7 million–is low. How do you possible count all the people who saw the shows in restaurants, bars, public spaces and parties in private homes? And what about all the people listening on the radio?
The Mic Drop.
If the show had ended after "Grace, Too," it would have been fine.
Here is your mic drop video do with it what you will #CBCTheHip pic.twitter.com/oqYgQO4j5h

— Ron Arsenault (@RonArsenault) August 21, 2016
The World Took Notice
Had I been up at my usual time, I would have been able to answer a request for an interview on the BBC World Service. (I missed their deadline.) The Beeb did run this story, however.
Kingston designated Saturday as The Tragically Hip Day in honour of its local heroes.
The Kingston concert was broadcast on Canadian TV and was shown at hundreds of public screenings across the country in bars and outdoor venues.
"There is a Canadianness that runs through them to the point where new citizens should be given a Tragically Hip CD after they take the oath," said Alan Cross, a radio show host and music historian.
The Guardian also covered the story and ended up quoting one of my tweets.
Downie wore a metallic silver suit and hat with a Jaws T-shirt underneath, and began the show by hugging and kissing his bandmates: guitarists Rob Baker and Paul Langlois, bassist Gord Sinclair and drummer Johnny Fay.
An energetic Downie and his bandmates played a 30-song set loaded with hits and punctuated by three encores. They opened with four songs from their 1992 breakthrough album Fully Completely: 50 Mission Cap, Courage, Wheat Kings and At the Hundredth Meridian.
The Hip then segued into songs from their most recent album, Man Machine Poem, before running through tracks from Music @ Work, Road Apples, Phantom Power, Up to Here, Day for Night and Trouble at the Henhouse.
The band's biggest hit, Ahead by a Century, finally closed the show.
Downie gestured as if he were sketching a portrait of the teary audience as the Hip played the song's final notes. The band members then embraced, stood arm in arm as the crowd roared, and walked off stage.
Before performing one song, Downie seemed to reference the outpouring of support from fans since his diagnosis. "Thank you, people, for keeping me pushing and keeping me pushing," he said, which prompted a "Gordie" chant from the audience.
After the show ended, the Toronto-based broadcaster and writer Alan Cross tweeted to say it would be remembered for a long time.
We will talk about this show in hushed tones for years to come.#TragicallyHip

— Alan Cross (@alancross) August 21, 2016
And then there was this from Reuters:
The rock concert did not begin with a rock song. Instead, it started with flag-waving fans breaking into a national anthem, "O Canada."
The impromptu tribute by an emotional sold-out crowd that included Prime Minister Justin Trudeau began what was expected to be the final performance Saturday by Tragically Hip, a group known as Canada's Band, and lead singer and songwriter Gord Downie, dubbed Canada's unofficial poet laureate.
Downie has been diagnosed with terminal brain cancer, and fans across Canada and abroad gathered at viewing parties to tune in and bid him farewell.
The bluesy rock band is better known as The Hip, and Downie is known for penning paeans to Canadian life: about hockey and desolate small towns, about literature and the French explorer who named Canada. Being so defiantly Canadian might be one reason why The Hip sent nine of its 13 albums to No. 1 in Canada, but none above the top 100 in the U.S.
The Eddie Vedder Shout-Out
Pearl Jam was in Chicago last night, but they took time to remember Gord.
1 of many reasons I ❤️ @PearlJam. Heartfelt shout out 2 #GordDownie & the #TragicallyHip tonight. #goosebumps pic.twitter.com/CiUlhG6tyh

— Andrew Greenlaw (@AndrewGreenlaw) August 21, 2016
Marcus provided this transcript:
"There's something going on up north of the border tonight, and it involves somebody that we can say is a family member. He's part of the group of touring musicians we've met over the years and they were.  There's a guy who's got a band called Tragically Hip, and lucky for some of us, he did some recording with a guy we recorded with all the time with in Seattle and I got to spend a few days with him and we were all informed of some sad news that he had a really tough form of brain cancer called glioblastoma, which some of us know a lot about and it's a tough one if not one the toughest forms and he was very courageous and decided to take his group out on one last tour and tonight's the last night of the that run.
So they're up there going through the emotions up there. And I just want to send them our energy from our gathering up to their gathering up there. And wish the best to Mr. Gord Downie. We love ya."
The band then went into "Light Years."
There was much more to Gord's shout out to Prime Minister Trudeau than just some bro love:
From the Globe and Mail:
Indigenous leaders across Canada expressed their support and gratitude to Tragically Hip singer Gord Downie for placing indigenous issues in the spotlight during the band's nationally televised concert Saturday, and for applying public pressure to Prime Minister Justin Trudeau to take action.
Mr. Downie, who announced in May that he has incurable brain cancer, told the audience that Mr. Trudeau "cares about the people way up North that we were trained our entire lives to ignore."
"It's going to take us 100 years to figure out what the hell went on up there but it isn't cool, and everybody knows that. It's really, really bad. But we're going to figure it out. You're going to figure it out," Mr. Downie told the live audience in Kingston, Ont., and the millions watching and listening live on CBC. He said Mr. Trudeau "is going to take us where we need to go," and that "We've got the guy to do it, to start, to help." Mr. Trudeau, who was in the audience, could be seen on camera nodding as Mr. Downie spoke and appearing to mouth the words, "Thank you."
Your move, Justin. Read more here.
NOW America decides to pay attention
This is from The New Yorker
Rock and roll has always been in love with death. It's the genre of the so-called Twenty-Seven Club, the genre of "I hope I die before I get old." It's Jimi Hendrix up late in London, Janis Joplin at a hotel with a needle, Keith Richards doing anything anywhere—the music is defined by its proximity to mortality. This summer, in Canada, one band is living that connection fully and completely. Gord Downie, the lead singer of the Tragically Hip, is suffering from glioblastoma, a terminal tumor in his left temporal lobe. But dying hasn't stopped the tour. Downie is coming out on stage every night to burn out publicly. It has been glorious.
The Tragically Hip are one of the biggest bands in Canadian history. The band has had nine No. 1 albums here, and has spent as much time at the top of the charts as Bryan Adams. The band members have been on a stamp. Why they have never translated to the American audience is one of the great mysteries of Canadian popular culture. I have never heard or read a convincing explanation. Their songs are catchy, and every other act anywhere near their size in Canada has gone on to success elsewhere. But the Tragically Hip belong to the North alone, it seems.
The final tour sold out instantly. For the band's final show, which takes place tonight in their hometown of Kingston, Ontario, Stubhub has been selling tickets for as much as twenty-five thousand dollars. Cities have organized "Tragically Hip Days," and spontaneous street parties have coincided with the band's tour dates. In the fading steel town of Hamilton, on the day of their last concert there, the local rock radio station Y108 played nothing but the Tragically Hip. Tonight the national broadcaster CBC will air their final concert from Kingston live—a rock concert by way of a state funeral. Prime Minister Justin Trudeau will be in attendance.
This is from USA TODAY:
The band's biggest hit closed the show, Ahead By A Century.
Downie gestured as if he was sketching a portrait of the teary audience as the band played the song's final notes.
They then embraced, stood arm-in-arm as the crowd roared, and walked off stage.
Before performing one song, Downie seemed to reference the outpouring of support from fans since his diagnosis.
"Thank you, people, for keeping me pushing and keeping me pushing," he said, which prompted a "Gordie!" chant from the audience.
After it ended, Toronto broadcaster and writer Alan Cross tweeted: "We will talk about this show in hushed tones for years to come. #TragicallyHip"
The whole article can be found here.
The New York Times ran this article:
In an unparalleled moment of national pride laced with sorrow, Canada stopped for a few hours on Saturday night to venerate the Tragically Hip, the band that for many has come closest to defining that country's cultural identity.
"Thank you," Gord Downie, the Hip's frontman, told the crowd from a stage in Kingston, Ontario, "for keeping me pushing, and keeping me pushing." In late May, Mr. Downie, 52, revealed that he had terminal brain cancer. Far from retreating, the band instead planned a short summer tour, by turns jubilant and wrenching, that has transfixed much of Canada for the last month.
Kingston, the group's hometown, was the last stop.
The rest of the story can be found here.
And this from the Washington Post:
It's an interesting question to ponder: What band could bring your country to a standstill?
For Canadians, the answer is simple: It's the Tragically Hip.
On Saturday, Canada was effectively closed as its citizens huddled around their TVs, celebrating the band and the extraordinary force that is Gord Downie.
Downie is a man and a musician. But in Canada, he is much more. He is nothing short of the unofficial poet laureate.
And he is dying.
Downie, the lead singer of the Tragically Hip, stunned the nation in May when he announced that he had been diagnosed with incurable brain cancer. The band responded with a 15-date tour that wrapped up Saturday night in its home town of Kingston, Ontario. The band never quite caught on in the United States, but in Canada, it was R.E.M., Pearl Jam and the Rolling Stones wrapped into one.
This was the most poignant of goodbye tours — Canada's chance to say farewell.
Saturday's concert, which lasted nearly three hours, was an emotional tour de force. Downie, 52, wore shimmering suits and feathered hats. He looked at his imaginary watch, as if to acknowledge that there isn't much time left. He tenderly kissed his bandmates and told the crowd to "have a nice life."
Fans choked up when he referenced mortality or uncertainty in his songs — "no dress rehearsal, this is our life" or "Wheat kings and pretty things / Let's just see what the morning brings."
Downie began sobbing at the end of one song. Then he gathered himself together just as quickly by returning to the stage for a surprise third encore and knocking out more fan-favorite songs.
Read more here.
And the Special Stories Keep Coming
Scott shot these videos in Kingston. If they don't give you chills, you're dead.
Here's a man who was helped through a double lung transplant by the Hip's extended family. The songs "Greasy Jungle" and "Inevitably of Death" from Day for Night were written about him. Read all about it.
What was it like to be in Bobcaygeon when the band launched into the song? This is from James:
They closed down the town and showed the whole show. I couldn't make it, but my mom told me that, "The Hip just sang 'Bobcaygeon' and it was so quiet in town." Everyone was in such awe. Even as I watched it from work, the song really hit me, more than I've ever had.
Here's Chris Assaad expressing his gratitude to the band.
Last night, an entire nation came together to celebrate and honour one of our greatest treasures. And in the most Canadian of ways, we also paid an emotional tribute and said what might have been a last goodbye to one of my musical heroes, Gord Downie, and my first musical inspiration and favourite band, The Tragically Hip. I watched the CBC broadcast of the show in the open air at the Distillery District in Toronto with a packed crowd of Hip faithful spanning generations among a beautiful mosaic of Hip t-shirts, signs and Canadian flags interspersed among the crowd. One week ago today, I also had the bittersweet experience of seeing Gord and the boys play their final show at the ACC in Toronto.
And I didn't know this about "Fifty Mission Cap."
There's a place where that most Canadian band, The Tragically Hip, and that most Canadian sport, hockey meet.
The band is responsible for one of the most beloved songs about the game, 1992's Fifty-Mission Cap.
It tells the story of a rare thing indeed, a Toronto Maple Leafs' Stanley Cup victory, an unlikely hero in Bill Barilko, and his untimely end in a plane crash just a few months later.
The song wouldn't have happened without a New Brunswick hockey writer and historian.
FYIMusicNews had this eyewitness account:
Of course it all had to end in a hockey rink – and why not an arena on Tragically Hip Way?
One of the most iconic and beloved bands in Canadian history, The Tragically Hip, wrapped up an epic, even mythical "farewell" tour in their hometown with a nationally broadcast love-in at the K Rock Centre that was ultimately, somehow, a celebratory event though we all know lead singer Gord Downie suffers from incurable brain cancer.
I've played hockey in the K-Rock against members of the Hip, their management and crew. I remember lining up, during a grueling game, for a faceoff against Billy Ray, legendary guitar tech for the band, my legs aching, five goals behind, looking up at the score clock and wishing it would end. Nobody in that Kingston arena Saturday night wanted things to end – ever — including the band.
Brett M and The Mystery Ticket Man
My name is Brett Murphy. I'm from Oshawa and I was one of the lucky ones on ticket master. After about 40 failed attempts during the May 30th fan club pre-sale, two tickets in the 11th row floor popped up for Kingston.
I get to the k-rock centre, find my seat and am in absolute awe of where I get to sit during this historic national event. Then, out of nowhere, this random guy walks up and says "hey, I don't want to be on camera, would you like to switch seats straight up? They are front row centre….". My adrenaline started pumping.
I was immediately skeptical until he said "look, I don't event want your ticket, just come with me to the front of the stage". We go up, get wrist bands, and I'm now right in front with 15 minutes to go before the show starts. Keep in mind I paid face value to be at this concert; $139. If you watch the broadcast, you will see two bright neon orange shirts. "Hip as fuck". That's us. Absolutely incredible to share in a moment that 12 million people were apart of, and to experience it 10 feet away from gord Downie. We made eye contact multiple times. I felt as thought I had truly won the lottery.
To this mystery guy who gave us his seats, I have no idea who you are, but I am forever grateful.
I thought it would be interesting to know that in this case, legitimate fans were right there watching in the front row.  Here are some pictures!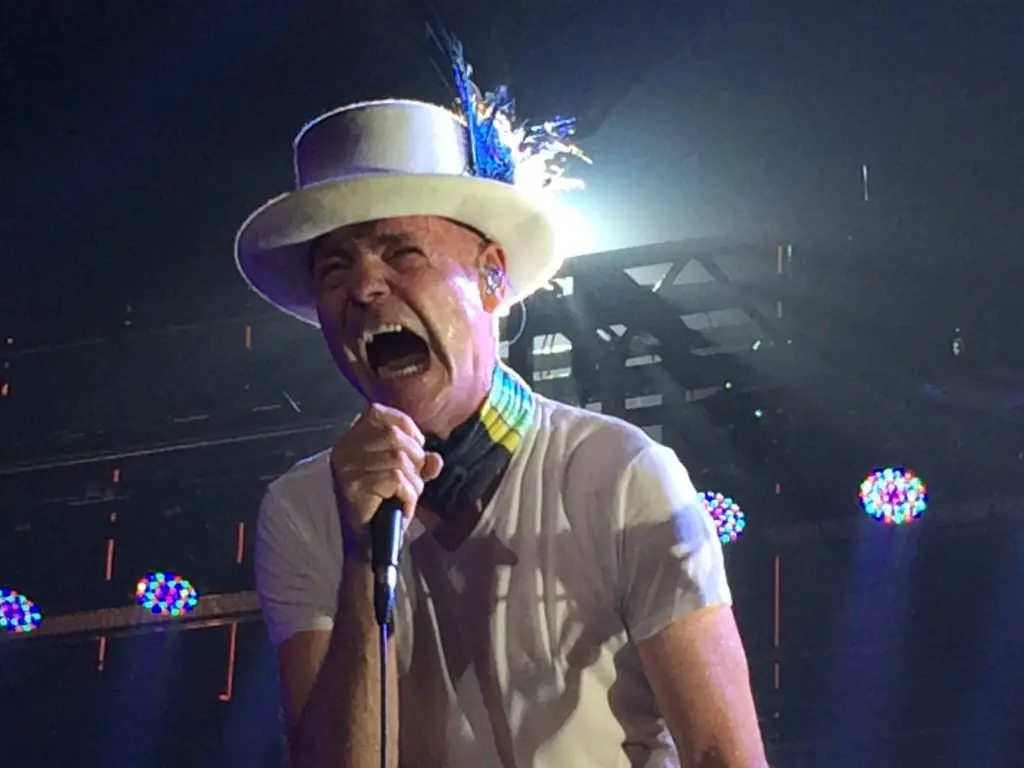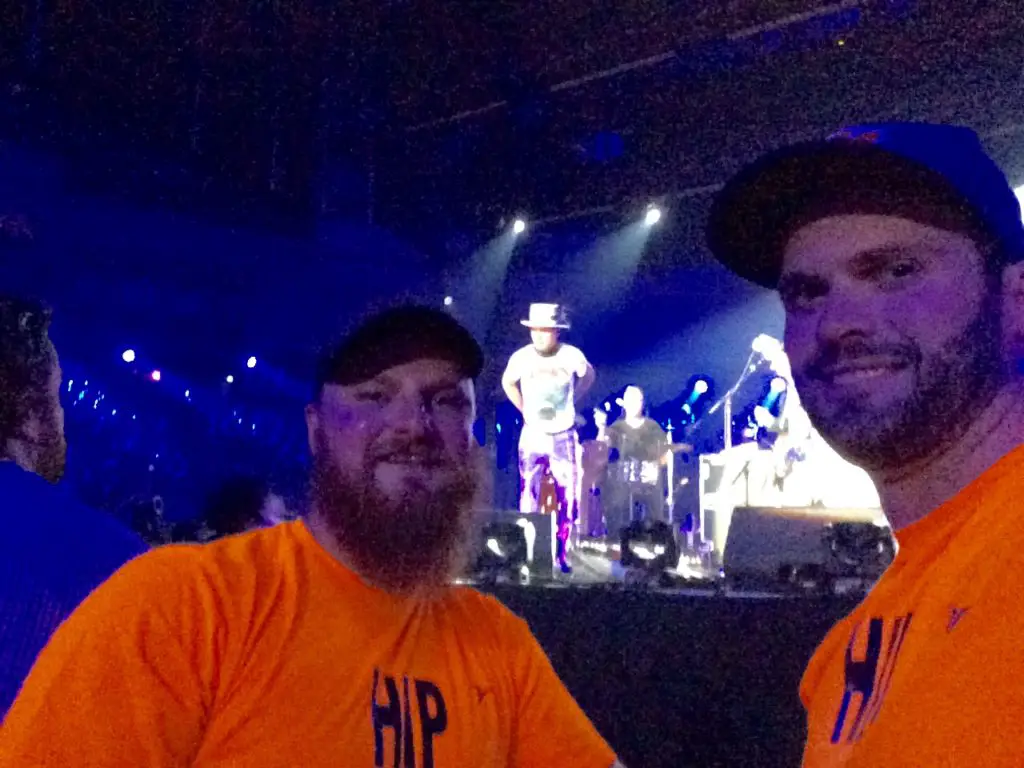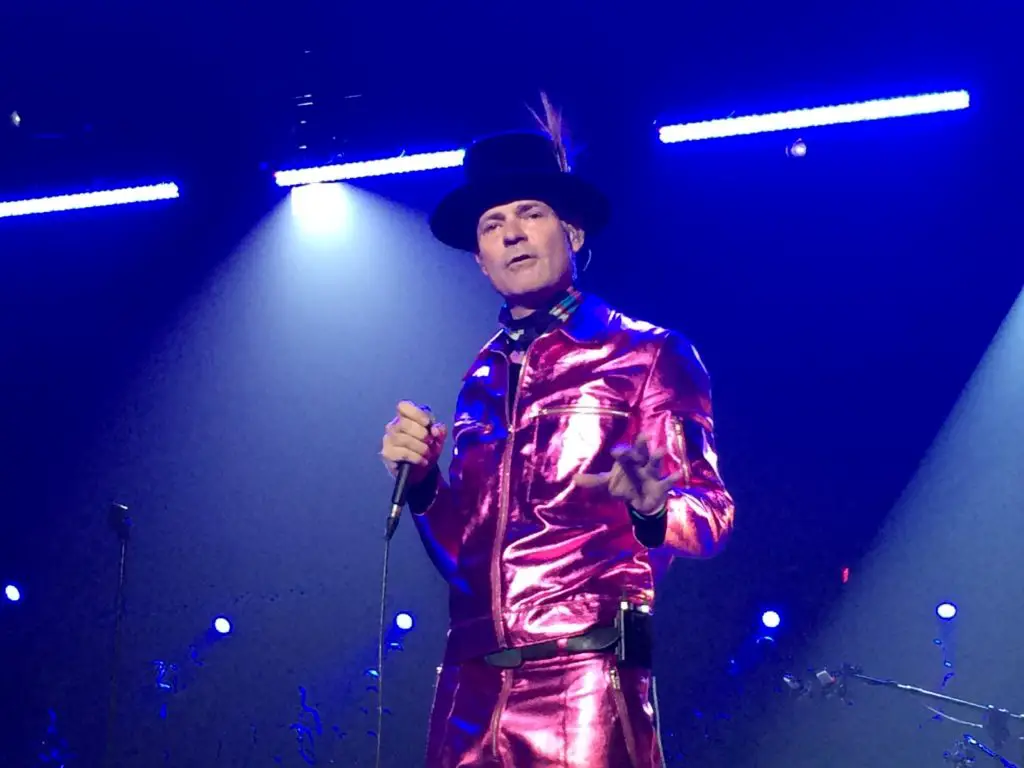 What's Next?
There's a credible rumour of a Gord Downie solo album in the coming months. I've heard that from several non-industry sources.  But we'll see, won't we?
Finally, Some Pictures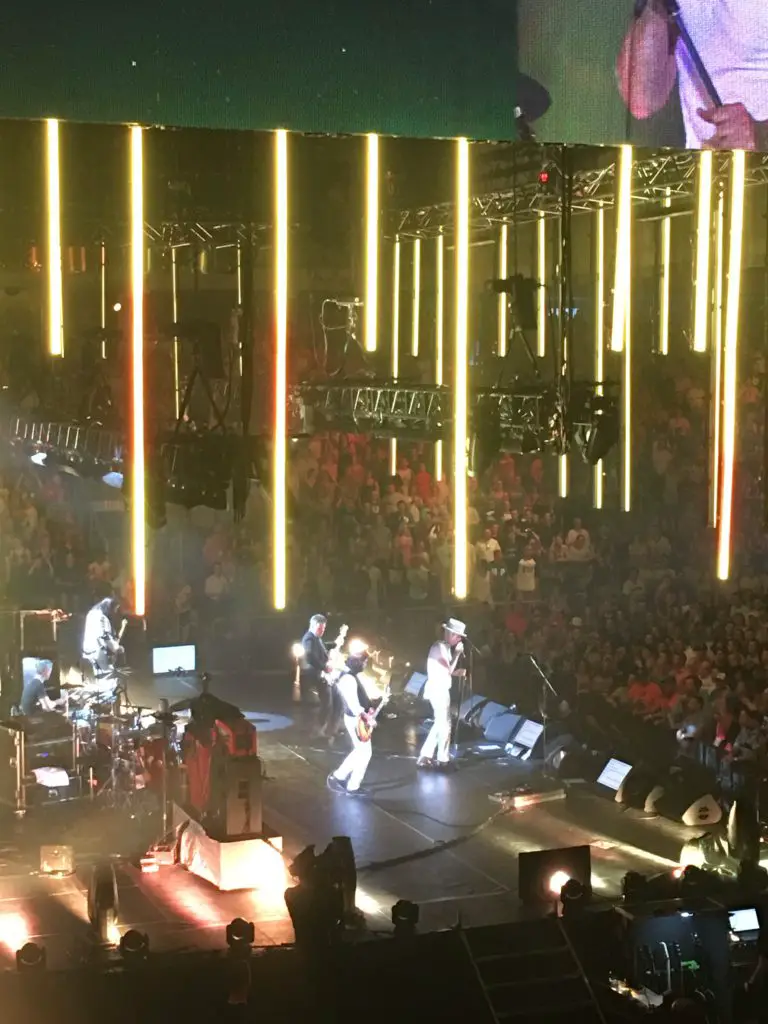 And the photos below are courtesy Doug Springer – heavlight.ca