The Tragically Hip Sells Out an Arena AGAIN–But…
There will be another sold-out Tragically Hip event this Saturday night, but it's not what you might think–or hoped for.
When the Kingston Frontenacs of the OHL take on the Mississauga Steelheads this weekend, the home team will be wearing some specially-designed Tragically Hip jerseys. It's a Hip theme night, after all, with three of the band members in attendance (Gord Downie will not be among them, apparently). They'll participate in a special pre-game ceremony. (If the announcer of the pre-recorded intro bit, that would be me…)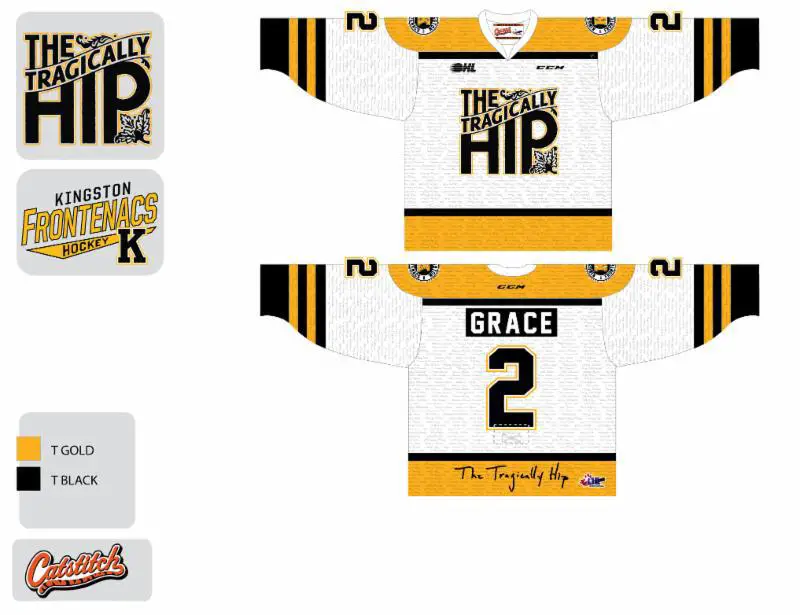 Once the game is over, all 23 jerseys will be auctioned off over the following two weeks, with all proceeds going to the Gord Downie Fund for Brain Cancer Research at Sunnybrook Hospital in Toronto.
This isn't the first time the Frontenacs have had a theme like like this. Don Cherry Night (no, really) and Military Night saw those jerseys sell for upwards of $1,000. I can't imagine these ones going for less.
The K-Rock Centre will be, well, rockin' Saturday night with a full house of about 5,500. Nice to see the Hip sell out an arena again, isn't it? (Via Tom and The Whig.)