The True Story of the David Bowie-Bing Crosby "Little Drummer Boy/Peace on Earth" Duet
Bing Crosby was an old-time radio and recording star whose career began in the 1920s. Before rock'n'roll came along in the 1950s, he was probably the biggest singing star in the universe. He also became a giant movie star after appearing in a bunch of films with Bob Hope in the 40s and 50s. His recording of "White Christmas" is considered to be the best-selling record of all time, moving some 100 million units since it was released in 1941. He was a hero and icon to your grandparents and great-grandparents.
In other words, as old-school establishment entertainers go, you don't get more old-school and establishment than Bing.
Meanwhile David Bowie was a recovering coke-and-heroin addict and bisexual alcoholic who seemed more alien than human.
In the summer of 1977, Bing was in the twilight of his career and was looking for something to attract the attention of a younger audience, something genuinely intergenerational. He had his people check out the zeitgeist and they returned with the idea of having Bowie–one of the biggest rock stars of the day–sing with him on Bing's annual Christmas show.
"Sure," said Bing. "Why not?"
When the invitation went out, Bowie enthusiastically accepted and went to Elstree Studios in London where the special was being filmed, thinking that this might be a way for him to normalize his career. (Also, his mother was a fan of Bing; Bowie accepted the gig in part to impress her.)
On September 11, 1977, Bowie and Bing performed together for Bing Crosby's Merrie Olde Christmas special for CBS It would be Crosby's last-ever performance. But I'm getting ahead of things.
Bowie cringed at the idea of singing "Little Drummer Boy." "I hate that song," he said. "Isn't there something else I could do?"
Enter Ian Fraser, Larry Grossman and Buz Kohan, all staffers on the show. They whipped together a part for Bowie they called "Peace On Earth" designed to be sung in counterpoint to Bing's "Little Drummer Boy." The two rehearsed for less than an hour and then went in front of the cameras.
Both were delighted with the results with Bing calling Bowie "a clean-cut kid and a real fine asset to the show. He sings well, has a great voices and reads lines well."
Five weeks later on October 14, Crosby would be dead. While walking back to the locker room at the La Moraleja golf club in Madrid after a brisk 18 holes–he and his partner had just won the round against two other Spanish champions by one stroke–he suffered a heart attack and died. He was 73.
The special aired on American TV on November 30, 1977 with a UK run on December 24. The song, however, was never officially released as a single for some years. It was available as a bootleg backed with Bowie's "Heroes," which he also performed on the show.
When RCA finally did get around to issuing it in November 1982 (a picture disc that included "Fantastic Voyage" from Lodger on the B-side), Bowie was pissed. It became another reason why he left RCA for Virgin the following year.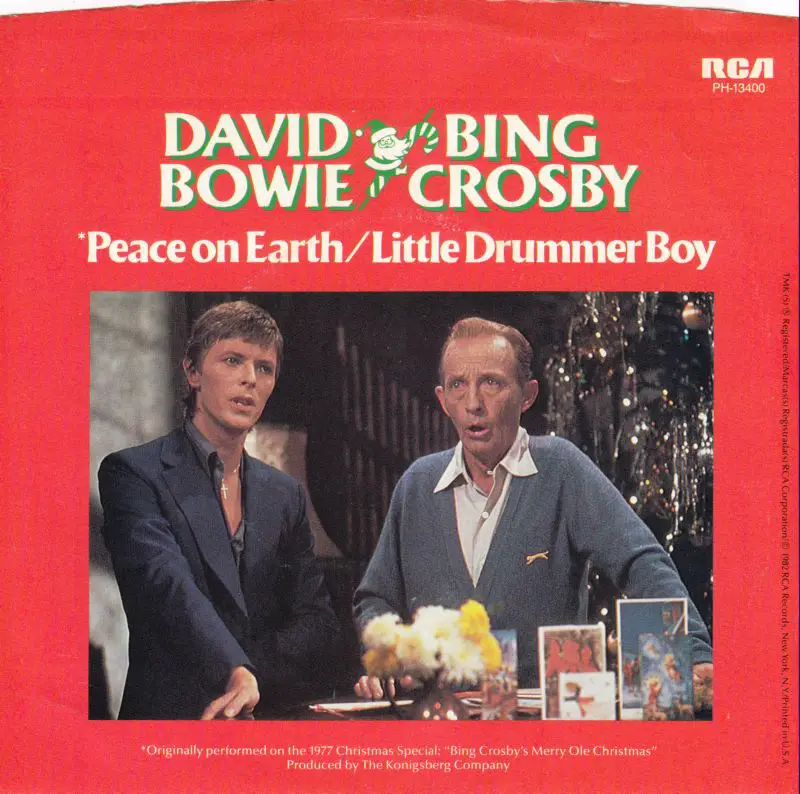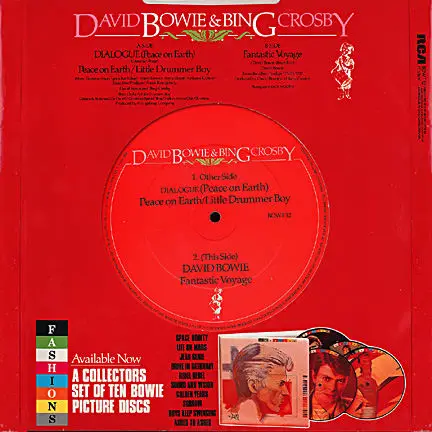 "Little Drummer Boy/Peace on Earth" has since become a Christmas classic, charting every single year in both the US and UK. It got as high as #2 on the Canadian singles chart in 1998.