Turn Your iPad into a Turntable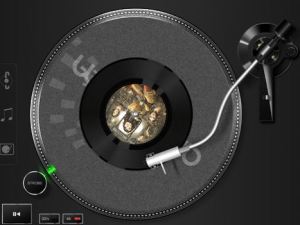 Vinyl Tap screen shotIt's an app called Vinyl Tap and it brings the experience of listening to records to the retina display on your iPad.
The app digs into the crates of your MP3 library and turns everything in to virtual vinyl. You can move the tonearm across the virtual record, flip the record over, play it at the wrong speed and even carelessly scratch it.
And you can choose from a regular S-shaped tonearm or a turntable that uses linear tracking (If you don't what that means, you're too young.)
If you connect your iPad to a set of external speakers, you have a virtual component system circa 1969.
I kinda like this. And for $1.99, I'll give it a shot.