Twenty Years Ago This Week, Edenfest Was a Great Success But an Even Greater Disaster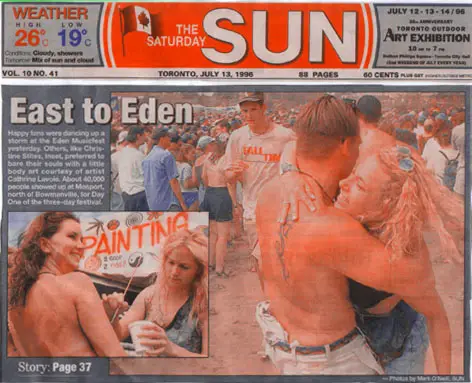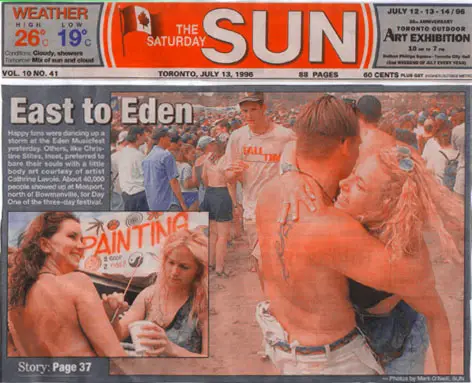 The middle 90s saw an explosion of music festivals: Lollapalooza, Warped, Summersault (an Our Lady Peace touring project), Edgefest (remember the touring edition), Another Roadside Attraction (the Hip's tragically circus) and a few more. All did rather well–except one: Edenfest.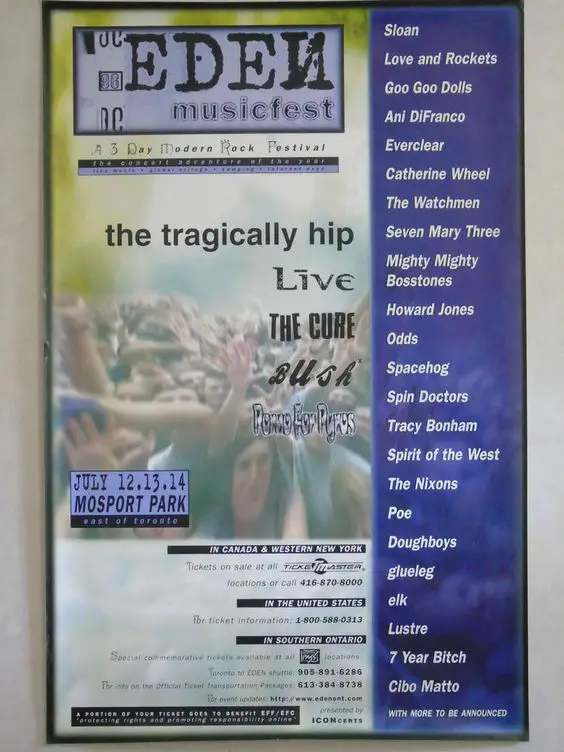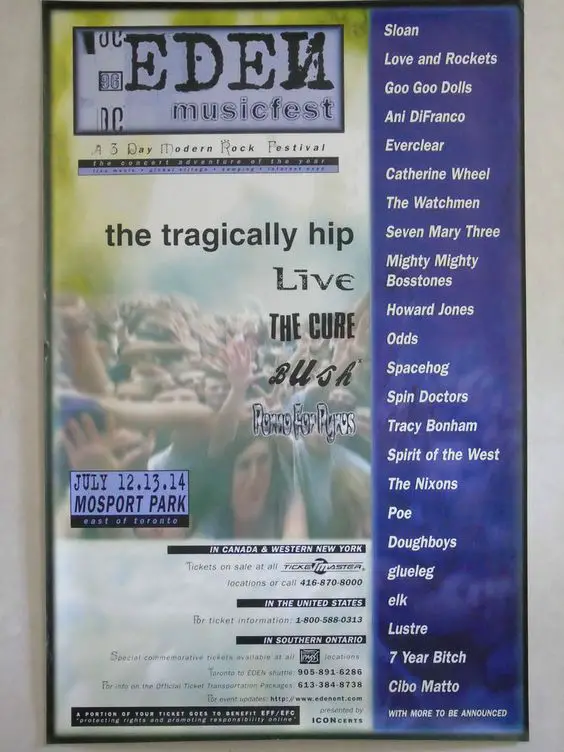 Staged by Eden Entertainment Group of Buffalo–a startup with grand ambitions but short on experience–it was very well attended but turned into a disaster. Here's what happened, both good and bad.
Over 70,000 tickets were sold for the three-day festival at Mosport Park July 12-14, 1996. And then another 20,000 people broke in after security surrounding the track broke down.
It was one of the first festivals in North America (maybe the world) to be streamed over the Internet. Then again, this was the era of RealAudio and RealPlayer and tiny, stuttery postage stamp-sized video windows. Still, give them props for trying with the available technology. The streaming site still exists, too. And if you want a real retro trip, check out this Angelfire site. Soooo 1996!
The lineup was pretty outstanding (see below) and there were plenty of rumours about surprise guests, including Green Day, Soundgarden and the Chili Peppers. For a while, the rumour was that Pearl Jam was going to helicopter in at the last second. They never showed.
When secret Sunday headliner never materialized, the crowd kinda went nuts, lighted piles of trash, tents and even golf carts on fire. (That sounds worse than it actually was. After all, we are Canadians and we don't riot well.)
Promoter Mark Drost suffered a financial meltdown as a result of all the financial pressures. There were rumours of a faked heart attack on Saturday afternoon and the airlifting out of three duffel bags of cash.
Drost was later investigated by the FBI for trying to extort $2 million from a US bank, a children's charity scam and various other issues (a bomb threat?).  There was talk of a 20-year jail sentence at the time.
The town of Clarington was stiffed by the promoters with some big bills. Mosport also wasn't paid what they were owed.
Edenfest ended after one year when it was originally envisioned to run for ten.
Any Edenfest memories? Lemme know.
Friday, July 12
Main Stage
Second Stage
The tails
Lenny Jabor
Son
The Bogmen
Star Kicker
Merlin
Lotion
Saturday, July 13
Main Stage
Second Stage
Hoarse
Supergarage
Hell Billys
Muse
Ruth Ruth
7 Year Bitch
Letters to Cleo
Solution ad
Screamin' Cheetah Wheelies
Sky Diggers
Buzzcocks
Sunday, July 14
Main Stage
Second Stage
The Femmes
Jenny Anykind
Rain Still Falls
The Gufs
Blinker the Star
hHead