Two Articles Offer Concern About the State of Hip Hop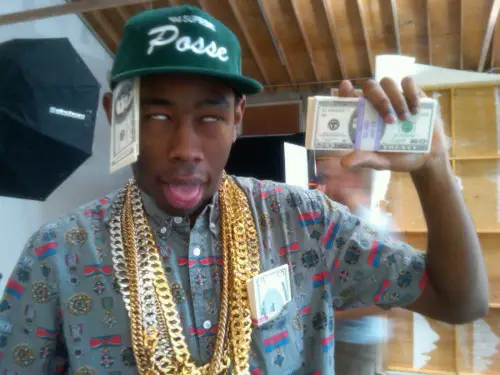 Judging by these two articles, hip hop is in some kind of crisis at the moment. The New York Times opines that "white-owned corporations" find hip hop useful but ultimately expendable.
This is a neon-bright sign of corporate retrenchment in the face of protest, bad press and flashes of moral rectitude. Mr. Ross's casual lyrics about rape incited a petition and a protest outside a New York Reebok store. Lil Wayne's lyrics spurred an outcry from relatives of Emmett Till, the black teenager murdered during the civil rights era whom the rapper had mentioned in a vulgar context. Tyler, the Creator was jettisoned after a black scholar called his soda commercials racist.
But these reactions are also a signal of how expendable hip-hop culture — and, by extension, black culture and youth culture — is to mainstream, predominantly white-owned corporations. These companies have been happy to associate with hip-hop while turning a blind eye to some of the genre's rougher edges, but at the same time they have remained at arm's length, all the better to dispose of hip-hop artists once their liabilities outweighed their assets.
But is it just hip hop? Or couldn't we say the same sort of thing for all rough-edged music? Just askin'. Read the rest of the article and form your own opinion.
Meanwhile, CBS News is worried about the music's YOLO culture:
The culture that in the 1990s lost its brightest stars to gun violence has in recent years seen a series of notable rappers die of drug- and health-related causes. Since 2011, hip-pop pioneer Heavy D, singer and rap chorus specialist Nate Dogg and New York rapper Tim Dog all died of ailments in their 40s. Kris Kross rapper Chris Kelly was found dead last week in Atlanta of a suspected drug overdose at 34.
Some of the genre's elder statesmen say they're worried about the culture's focus on youth, current emphasis on freewheeling partying and "you only live once" ethos, as popularized by Drake's 2011 hit "The Motto."
"Hip-hop being a lifestyle culture … a part of American culture, you have to be mindful that somebody is going to grow old, age," said rap pioneer Melle Mel. "At some point somebody has to realize that hip-hop has to learn how to grow up. It's way too juvenile and it's been that way for too long."
Read more here. Thoughts?