More Than Two Dozen Shot at Arkansas Club
At least 28 people were wounded when gunfire broke out at a nightclub in Little Rock, Arkansas. Victims ranged from as young as 16 to people in their mid-20s. No one was killed, but twenty-five people are still being treated for their injuries.
The shots starting flying around 2:30 am today (July 1) at a rap concert at the Power Ultra Lounge. The performer was Fitnesse2Tymes, who is based out of Memphis.
Here's the poster used to promote the gig.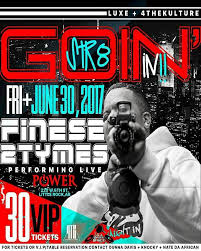 No one is suspecting terrorism. It sounds like some kind of beef that got way out of control.
#BREAKING: Video shows moments leading up to at least 17 people being shot at nightclub in downtown Little Rock (Courtesy: Darryl Rankin). pic.twitter.com/aBgYfF4FNu

— Mitchell McCoy (@MitchellMcCoy) July 1, 2017
Some arrests have been made.