Two Have Throats Cut at Coldplay Concert. Wait–What?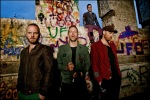 We've heard of violence at metal and hip-hop shows. But at a Coldplay concert?
Two men had their throats cut Wednesday night as what was supposed to be a good time at a Coldplay concert turned violent.
Police and paramedics were called to the Saddledome shortly after 10:30 p.m. by venue security.
"We found two (adult) male victims that appeared to have suffered slash wounds to their throats," said Insp. Craig Skelton of the Calgary Police Service.
I have some theories. The assaults were the result of:
(1) A girl
(2) Suicidal despair over being dragged to a Coldplay concert instead of being able to watch the NHL playoffs from the comfort of a couch.