U2 Album Package Design About to Start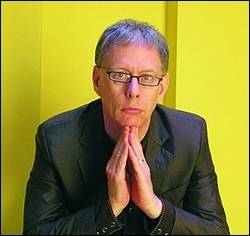 Larry forwards this from @U2 about Steve Averill, a guy who has worked with U2 on plenty of album projects dating back to the very beginning. Hell, he was the guy who suggested the name "U2" to Adam Clayton.
Some news this afternoon from the U2 Conference: Steve Averill of AMP Visual, U2's longtime design team, said he and his team are due to meet soon with the band to discuss design ideas for the next album.
He hinted a couple times during the session about working on U2's next album, and during the audience Q&A an attendee asked if they'd started talking with the band yet.
"Not yet, but we're supposed to meet with them in about a week's time."