Is U2 Back in Bed with Apple? [UPDATE]
If we go back about a ten years, you'll remember that U2 and Apple were best friends. The band appeared in iPod commercials…
http://youtu.be/TKi1PcnBZq8
…and Apple released a special U2 iPod.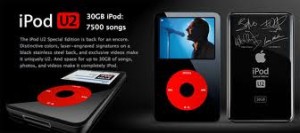 Notice anything familiar about Bono's picture?  That photo became the basis of the "Artists" icon on all iOS devices.
But a few years later, U2 bolted from Apple in favour of a fat sponsorship deal with BlackBerry. When I asked Bono why, he told me "because BlackBerry offered us something Apple wouldn't: access to their people and labs."
That sounded promising, but outside of a few lukewarm apps and sponsorship of the 360 Tour, nothing really came out of that relationship.  It's obvious now that U2 had bet on the wrong horse.
But might they have changed teams again?  Larry found this at a Spanish U2 site. Here's the Google translation:
Last week took place in Nice, on the Riviera Studios, filming / recording that could well end up in the video for the first single from the new album of U2 or could be aimed at a promotional video by Apple, as it happened Vertigo in 2004 and the album How To Dismantle An Atomic Bomb.
Considering the rumors single release in September, the extraordinary relationship between Apple (Jonathan Ive) + Beats (Jimmy Iovine) and on 9 September, the new iPhone 6 was present, all would fit .. but it could also be related to the rumor about the presence of U2 at the iTunes Festival.
This follows the meeting that took Balart Xavier last Thursday night at the door of the Riviera Studios with 3 of the members of U2, although information related to Apple comes from a chance meeting with Julian Lennon.
This was the summary of the meeting:
– The band has been recording in the Riviera Studios virtually all week that ends today. Speaking with members of security had even lost track of time in the marathon sessions. Twitt seen that appeared on Tuesday and referring to Monday, I understand that the same have been since Monday 11th until Friday at least 15 is a guess, but is sure to have been Wednesday, Thursday and Friday. Comments that have already finished.
– Our meeting takes place on Thursday 14 after many hours of waiting. In the morning the two of us and in the afternoon an Italian couple and a French added, with his two sons.
– Security out occasionally to say that we did nothing there and that U2 was not in the Studios. Futile attempts to make us go when one has seen entering Dennis Sheehan, Sharon Blankson, Brian Murphy (Bono's bodyguard), the car carrying Bono at Cannes Lions with the same driver and even two members of the band at the wheel of their own cars.
– About 23:30 Larry Mullen leaves the wheel of a BMW sports ignoring the 6 adults and 2 children we expected easy.
– About 00:00 hours two vehicles are close to the entrance to the Studios. The first is a spectacular black Bentley with white leather upholstery. Adam Clayton at the wheel. For low and the vehicle is serving us. Before asking us to shrink away so you can leave the second car. I hand him a copy of "U2 in Spain" and tell him that's the book. Suddenly The Edge of the second vehicle is lowered. First of all he entertains in shaking hands with each of us. Both spend a few minutes with us. Firman and taking photographs. Adam says goodbye and leaves while The Edge asked the disk and have finally finished. The answer is always … bit terse and concise …. "Almost finished".
– Bonus is already out and only those who wait. It's almost 1:30 when you get an Audi Q5 stops. Is Bono, moving down and like The Edge gives us a hand to everyone before serving us. Photos and signatures for all. While signing a photo of yourself with the book "U2 in Spain" says he liked me and he was thumbing through the day we deliver. He commented that it is "unfortunately" in Spanish and he answers: "You know I speak english very well …. 1,2,3, ….. 14".
– With the band was talking with Brian Murphy and commented that we wanted to record and tour. When are you going to tour? "Very very soon" …. emphasizing the very answer. We say that the rumors speak April in USA and smiles saying "Not bad". We asked him about the new songs and says that we do not really taste mucho.Que hopefully something like Invisible and although it is clearly different sound to U2. They are without interest and comments that do not confirm anything. Let each one take it as it sees fit.
– The icing occurs the next day. Breakfast in a mall we find Julian Lennon, son of the late Beatle and close to Bono.Unbelievable … surreal. We talked to him and we told him we had been the day before with Bono. We asked whether the "recording studio". We replied in the Riviera and their response is "are shooting an ad for Apple believe." Again they are assumptions but his words are sobering: 1) The group is also or has been finalizing the disc in a study in southern France. 2) a new partnership with Apple is confirmed.
– Again no confirmation but it seems obvious that in all this time on the Riviera Studios have recorded more than a simple announcement.
– On Friday 15 spent by study at 22:30. There are 3 Italians, two of them take from 6 in the morning. Finally they were able to be with Bono just a few minutes before our arrival. The rest of the band goes nonstop.
I think that's all. It seems we have to wait very little.
Hmm.  A swing back to Apple would be VERY intersting.
UPDATE:  The same U2 site is floating a theory that the band will play the iTunes Music Festival at the Roundhouse in London next month. Larry provided this translation:
Today we continue with no official confirmation from U2.com launch of the new U2 album. Indeed practimente has not spoken on the official website of anything related to the new album, and that more than 5 years ago with the latest release "No Line On The Horizon". While confirmation coming single and album (or double album (2 or 1 + 1) as we have been reporting on since May U2V) rumors remain the basis of the news websites about U2. If we continue with the theory (no official confirmation yet) possible collaboration with Apple U2 U2 might have to participate in the 2014 iTunes Festival 30 nights of concerts during the month of September at the Roundhouse in London. Today already announced most performances, and there are still some dates and artists to be announced (TBA To be announced). Tickets are only available mediantes draw for UK residents on the website of the festival. This would be the iTunes Festival Line Up of 2014:
September 1, 2014: TBA
September 2, 2014: JENNY LEWIS BECK +
September 3, 2014: David Guetta + + CLEAN BANDIT ROBIN SCHULZ
September 4, 2014: 5 SECONDS OF SUMMER + CHARLIE SIMPSON
September 5, 2014: KASABIAN
September 6, 2014: TBA
September 7, 2014: CALVIN HARRIS + KIESZA
September 8, 2014: ROBERT PLANT + LUKE SITAL-SINGH
September 9, 2014: SAM SMITH + SOHN
September 10, 2014: PHARRELL WILLIAMS + JUNGLE
September 11, 2014: MAROON 5 + MATTHEW KOMA
September 12, 2014: ELBOW
September 13, 2014: Paolo Nutini
September 14, 2014: DAVID GRAY
September 15, 2014: THE SCRIPT + FOXES
September 16, 2014: BLONDIE + Chrissie Hynde
September 17, 2014: GREGORY PORTER + ERIC WHITACRE
September 18, 2014: JESSIE WARE
September 19, 2014: TBA
September 20, 2014: Rudimental + JESS Glynne
September 21, 2014: RYAN ADAMS + FIRST AID KIT
September 22, 2014: TBA
September 23, 2014: TBA
September 24, 2014: TBA
September 25, 2014: TBA
September 26, 2014: LENNY KRAVITZ
September 27, 2014: Kylie Minogue + MNEK
September 28, 2014: TBA
September 29, 2014: TBA
September 30, 2014: TBA
If U2 take out single in September and announced the album October or November for a performance at the iTunes Festival presentation charge much sense. Until U2.com all these rumors can not pronounce and others will follow the agenda. What seems pretty clear is that the volcano is erupting almost.
All news and rumors and confirmed in our discography section and the new U2 album.