U2 Doc Kicks Off TIFF Today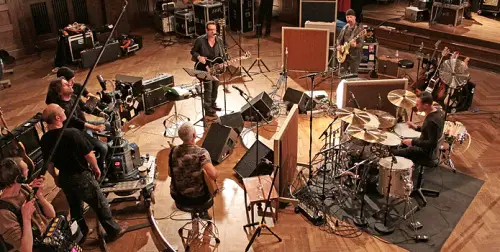 I'm stuck waiting for U2 at their hotel. Yes, there will be pics…
From the Sky Down, Davis Guggenheim's documentary on U2's Achtung Baby period, opens the 36th annual Toronto International Film Festival with two showings today, including the red carpet gala at Roy Thompson Hall. (I've been invited, so I'll report back tonight.)
There are two things that make this opening gala remarkable: (a) TIFF has never opened with a doc before (then again, they opened with a hockey musical last year); and (b) this film wasn't completed until last month. In fact, the whole film project didn't really get going until February.
Some previews of the film can be found here and here.
Bono arrived in the city last night. All four members of the band will be in attendance at the 8pm screening.
Then there's the press conference/interview tomorrow at the Bell Lightbox at 1:30pm. (To see how you can be involved, refer to this post.) And if you're going to be in the Yorkville area, make sure you drop into Creme to see my buddy Louis D's collection of U2 photographs. Stunning. And you never know who might be having a drink on the patio…