U2 Fan Impresses Band So Much They Let Her Rearrange Their Set and Just Let Her Play
Last night at the Air Canada Centre in Toronto, Bono grabbed a young U2 fan named Stephanie from the audience to dance with him during a rendition of "Mysterious Ways." That was nice, but what Stephanie really wanted was a chance to play guitar with the band.
Bono blamed himself for the mistake, blaming his glaucoma for misreading her sign. Correcting things on the fly, Stephanie was handed a guitar and told to play the chords of "Angel of Harlem." Which she did–and very well.
U2 was so impressed that when she asked if she could play "All I Want Is You," the band said "Sure!" So they did.
What's interesting is that "All I Want Is You" wasn't scheduled until much later in the set. Here's a set list my friend got from the band before show.  Nice of them to rearrange everything for her, no?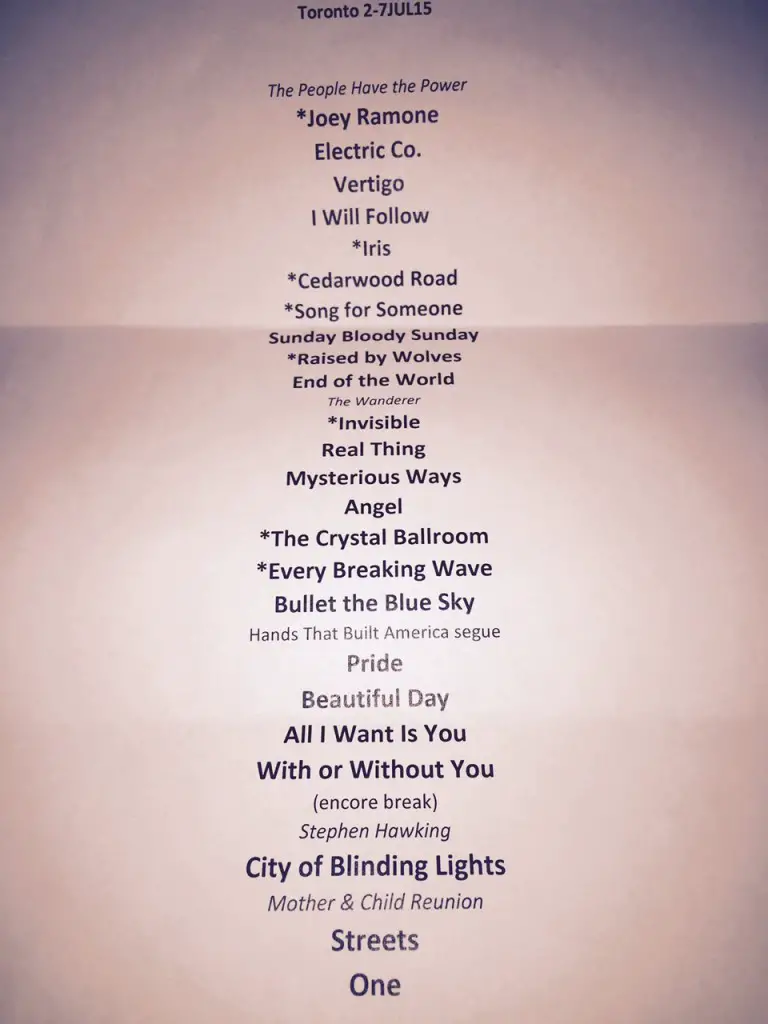 And apparently, Dave Grohl was in the crowd last night ahead of tonight's and tomorrow's Foo Fighters show at Toronto's Molson Amphitheatre.
In case you missed it, U2 did something similar Monday night when they invited an entire U2 tribute band called Acrobat onstage to perform. U2 stood back and watched Acrobat rip through a very credible rendition of "Desire." The harmonica solo at the end featured dueling Bonos, which was a bit surreal.
The sold out crowds in Toronto ate it up and both performances have received worldwide coverage (cf. CTV, Rolling Stone, NME).
I can't recall another time in the band's career when they've been so generously inclusive and interactive with fans.  And they really, really seem to be enjoying it. I spoke with The Edge and Adam on Wednesday afternoon and they think this sort of thing is great. "Just go with it," says The Edge.
I swear I even saw Larry Mullen Jr. smile once or twice.