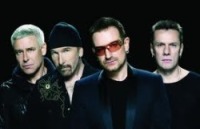 U2 takes a lot of stick for being big, pompous and overly earnest. They also got pilloried for how they handle their tax situation by moving to a jurisdiction where they minimize what they pay. Bono thinks he's God, the Edge is ruining Malibu with his mega-mansion development, etc. etc.
But the band and their organization should also get credit for the good they do. Bono's campaigning on behalf of Third World peoples. The Edge's work with kids affected by Hurricane Katrina. And now there's this news out of Ireland.
The band has just given 1.7 million euros to The Music Generation, a group that will tutor and mentor kids who want to learn about music. Good on them.