U2 Manager Paul McGuinness Has a Few Issues with Google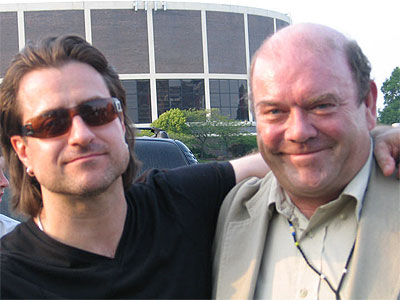 McGuinness is at MIDEM in France this week for the big annual conference. He's feeling a little uneasy about Google's role in the music space these days.
"I don't want to engage in Google-bashing, but there is a sense of unease across Europe, across the world about Google," he said.
"Google have been making encouraging noises about restricting illegal sites or directions to illegal sites for acquiring music. The noises are very encouraging, but I'd like to see some action. It's as simple as that."
McGuinness did praise Google, but said he wants the company to take more responsibility in the realm of copyrighted content.
"Google have brought so much to civilisation in terms of spreading knowledge and informing the world. I know they're ingenious, we all know they're ingenious, but they are making money from directing people to piracy," he said.
"I wish they would apply themselves and their extraordinary ingenuity to the micro-transactions that occur every time somebody listens to a piece of music over the internet. They can do it… There is a sense of unease, and a feeling they're not really doing what they could be doing in this space. And I would like them to hurry up a level."