U2 Releasing Innocence + Experience Tour DVD
One thing is pretty consistent. If there's a U2 tour, there's gonna be a DVD. And guess what? It's coming out soon. Let's begin with a trailer.
From the official press release:
The concert film captures the groundbreaking tour as it returned to the French capital in December. The New York Times put it like this: "The Paris show that concluded U2's Innocence and Experience tour was concert as personal memoir, archetypal story, prayer, exorcism and vow of unity."
The 2.5 hour film, directed by Hamish Hamilton, includes guest performances by Eagles of Death Metal and, on the deluxe version, by Patti Smith, which also features behind-the-scenes footage, additional music videos and live tracks and a tour of the visuals narrated by the band's lifelong friend Gavin Friday.
"Directing iNNOCENCE + eXPERIENCE was scary," says live broadcast director Hamish Hamilton who previously worked with U2 on 2001's Elevation Tour. "A technical nightmare married with a creative rollercoaster. It challenged everything I knew on so many levels…What blew my mind were the multiple narrative arcs combined with the number of emotional arcs you are taken through as you journey through the show. There's a lot of good shows out there – but very few great shows."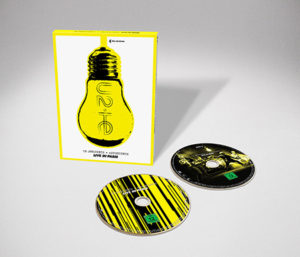 Here's a sample setlist of songs from the Blueray release ($25 US):
1. People Have The Power
2. The Miracle (Of Joey Ramone)
3. Vertigo
4. I Will Follow
5. Iris (Hold Me Close)
6. Cedarwood Road
7. Song For Someone
8. Sunday Bloody Sunday
9. Raised By Wolves
10. Until The End Of The World
11. The Fly
12. Invisible
13. Even Better Than The Real Thing
14. Mysterious Ways
15. Elevation
16. Every Breaking Wave
17. October
18. Bullet The Blue Sky
19. Zooropa
20. Where The Streets Have No Name
21. Pride (In The Name Of Love)
22. With Or Without You
23. Stephen Hawking 'Global Citizen'
24. City Of Blinding Lights
25. Beautiful Day
26. Mother & Child Reunion
27. Bad
28. One
29. People Have The Power (With Eagles Of Death Metal)
30. I Love You All The Time (Eagles Of Death Metal)
Bonus Material
1. Cedarwood Road – A Gavin Friday Narration
2. Out Of Control (December 6th 2015 – Paris)
3. The Future Better Hurry Up
4. The Electric Co. (November 11th 2015 – Paris)
5. i + e – Behind The Scenes With The Director
6. Bad / People Have The Power (With Patti Smith – December 6th 2015 – Paris)
7. The Wanderer
8. The Troubles
9. Music Videos
1. Ordinary Love
2. Invisible
3. The Miracle (Of Joey Ramone)
4. Every Breaking Wave – A Film By Aoife Mcardle
5. Song For Someone (Directed By Vincent Haycock)
6. Song For Someone (Behind The Scenes)
7. Song For Someone (Directed By Matt Mahurin)
Also included in the Super Deluxe Box (which I had hoped was mini replica Edge guitar but no!!) at the low, low price of $125 US (no sign of any of this on amazon.ca as I write this):
INNOCENCE + eXPERIENCE Live in Paris
Bonus Material
Blu-ray – iNNOCENCE + eXPERIENCE Live in Paris + Bonus Material

Also Contains:
Exclusive USB Lightbulb
64-Page Hardback Book
Individually Numbered Dog Tags
Stencil Set
Postcard Set
Sticker Sheet
Pin Badges
Digital Download Card
Pictures of these items are in the banner above.
Read all about the versions here.