U2 at the Rogers Center in Toronto: Bots 1, Humans 0 (So Far)
The emails started coming at 10:15 this morning (January 17). "How can all 50,000+ tickets for U2's Toronto show at the Rogers Centre be gone in less than ten minutes? Goddamn bots!"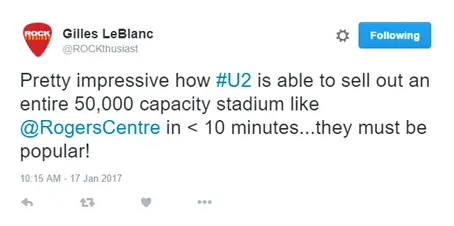 Ticket-buying bots definitely figured into things–don't they always?–but there weren't as many seats available as you might first thing. A quick spin through the seating map last week showed that approximately 80% of the tickets were gone through various presales. That means when tickets went on sale this morning at 10 am, the general public was fighting over 10,000-ish available spots.
Naturally, StubHub had tickets for sale within seconds, starting at around $99.  Vivid Tickets was selling GA tickets for $381 USD and VIP packages for $2,400 USD.
Frankly, these prices aren't that outrageous–yet. There's no way that Toronto (or Vancouver, for that matter) is going to get just one show on this 20th Anniversary Joshua Tree tour. When both (all three?) Toronto shows are sold out, watch the prices rise.
What about elsewhere? Chicago's Soldier Field is showing sold out as are dates in Boston, Jersey and Philadelphia. My sources say that only Chicago and Dallas posed the "are you a bot" question to those trying to buy tickets. Strange. By the way, Chicago already shows more than 250 options under the tab for "resale only."
It's also interesting that while pretty much all of Europe went clean the first day, there are still lots of tickets multiple North American shows (Vancouver, Seattle, San Fran, Houston, Dallas, Pittsburgh, Miami, Tampa, Washington DC and Cleveland). Clearly, there's a problem here.