U2 Shows Up at the Golden Globes. They Win–and Then There's That Awkward Moment with P Diddy.
See? (Tip from The Hollywood Minute)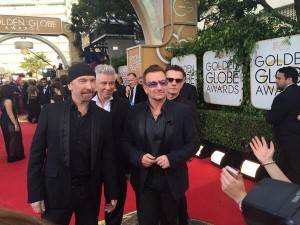 And here's Bono with Emma Thompson and their families.
U2 went on to win Best Original Song for "Ordinary Love," the track that appears in the movie Mandela: Long Walk to Freedom, which was followed by an awkward moment with P Diddy.  There's a good Vine shot at BuzzFeed.
In their acceptance speech, they gave a shout-out to their new manager, Guy Oseary (who, in case you didn't know, is also Madonna's manager.)  Later, The Edge said that the band put work on their new album on hold so they could give all their energies to this song.
Finally, what's this about the new album not coming until June?  With a single due in three weeks?  Maybe–but only if they have a rollout plan that involves at least two (and maybe three ) singles before the album drops.