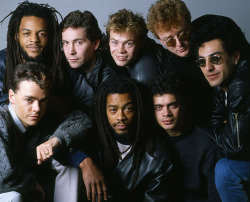 There's the carbon cycle that makes life on earth possible. There's the cycle of life and all that Lion King stuff. And there now there's a new cycle UB40.
For the uninitiated, "UB40" is a form Brits filled out to qualify for the dole (Unemployment Benefits, Form 40). Members of the band met each other in line at the Department of Health and Social Security in 1978.
After a bit of a rough start, they were discovered playing in a pub by Chrissie Hynde of the Pretenders and within a few years were having major hits with songs like "Red Red Wine" (a cover of a Neil Diamond song), "One in Ten," "Cherry Oh Baby," "The Way You Do the Things You Do" and dozens of others. There were plenty of gold and platinum albums, too.
However, things turned sour in recent years. Their record company and management firm, DEP International, went bust. Meanwhile, band finances had not been good for some time.
Everything had been in court for some time, but now a judge has ruled that tax officers are fully within their rights to seize any property to pay outstanding debts. They are skint. Busted. Bankrupt.
But before they end up back in line at the DHSS office with their UB40 forms in hand, they're going to try recording a new album. We'll see what happens.