Uh-Oh. Controversy Over the Foo Fighters' July 4 Show in DC. (And It Has Nothing to Do with Broken Legs)
The Foo Fighters are set to make their first live appearance today since Dave Grohl wandered off the stage in Sweden, breaking a fibula and dislocating an ankle. RFK Stadium will be rockin'.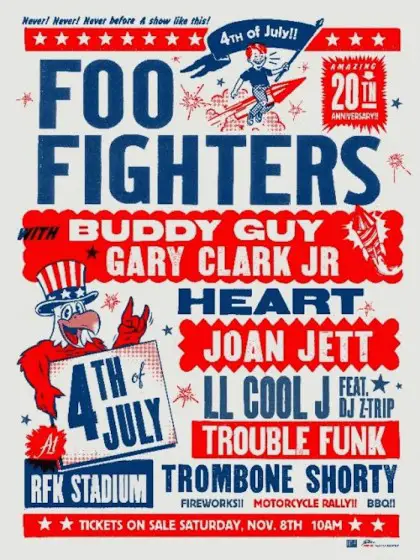 But what's this? A stink over photographs? Spin reports:
One D.C. newspaper, however, will not be photographing the band as planned, claiming in a new blog post that the contract that the band's management asked their photo team to sign is "exploitation… pure and simple."
You can check out the entire proposed contract at the Washington City Paper's website, but it includes stipulations such as:
the band approving the photos which run in the City Paper; only running the photos once and with only one article; and all copyrights would transfer to the band. Then, here's the fun part, the band would have "the right to exploit all or a part of the Photos in any and all media, now known or hereafter devised, throughout the universe, in perpetuity, in all configurations" without any approval or payment or consideration for the photographer.
The City Paper points out that discussions with the Foo's management yielded rhetoric claiming these types of contracts are standard to "protect the band," something Taylor Swift's team also claimed after a photographer recently leakedone of the 1989 singer's photo contracts.
The full story can be found here.