The Ultimate Wedding Playlist. According to FiveThirtyEight.
At the beginning of the month I gave a list of songs to avoid putting on your wedding playlist. Recently, poll analysis website FiveThirtyEight published the "ultimate wedding playlist". Ultimate, in this sense, refers to the most requested or played, so keep that in mind.
The general editor of FiveThirtyEight, Walt Hickey, asked readers to send him their wedding reception playlists last month. As a result, Hickey received 163 playlists with 9281 songs, or 3358 unique songs. Based on the data Hickey took from those lists and the overlap between them, he figured out which songs and artists were the "ultimate" choices for modern brides and grooms.
Let's take a look at the list.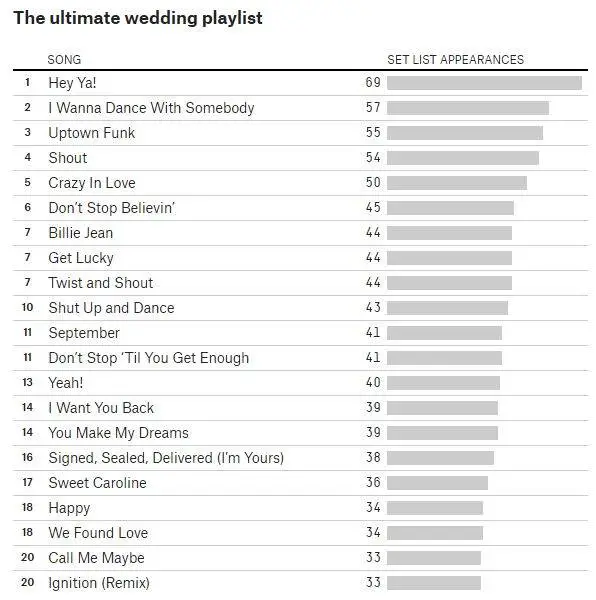 Comparing this list to the list I created of songs to avoid, only one song overlaps. Stevie Wonder's "Signed, Sealed, Delivered (I'm Yours)". Again, Hickey is defining "ultimate" as most requested/played, but it's still interesting that a song about someone leaving their partner then returning and begging their partner to take them back is on the list.
In terms of artist count, Michael Jackson topped the list by appearing 202 times. That doesn't include The Jackson Five's number 9 spot, either. Beyoncé appeared 130 times, beating out the Beatles' 120. Stevie Wonder trailed close behind with 108 songs.
Overall there is a decent mix of songs across a number of decades. Hickey comments:
"Everyone at the wedding — the couple, their parents, their parents' parents — gets a few songs from when they were in their late teens and early 20s".
Have anything to say about this list? Feel free to leave a comment!
Here are the top 5 for you to hear:
"Hey Ya!" – Outkast
"I Wanna Dance with Somebody" – Whitney Houston
"Uptown Funk" – Mark Ronson ft. Bruno Mars
"Shout" – Otis Day and the Knights
"Crazy in Love" – Beyoncé