Ultra-Rare Jack White Record FOUND! (Inside a Sofa!)
Back when Jack White was still Jack Gillis, he worked as an apprentice upholstery in Detroit. Working with his buddy Brian Muldoon–who was also in the furniture racket–he was in a band called (appropriately) The Upholsterers. Together they recorded a song called "Your Furniture Was Always Dead…I Was Just Afraid to Tell You" and hit 100 copies inside couches they rebuilt. But now, two copies of this ultra-rare record have been found.
Third Man Records, Jack's label, had this to say:
Recently Third Man Records has been made aware of the discovery of two different copies found by two separate individuals of the 2nd single by the Upholsterers. This duo, comprising of actual upholsterers Jack White and Brian Muldoon, pressed 100 copies of this single and proceeded to hide them in furniture being reupholstered by Muldoon in 2004, in celebration of his 25th year in the business. In celebration of these discoveries, Third Man would like to share with everyone the cover art for this single, done by noted Detroit artist Gordon Newton.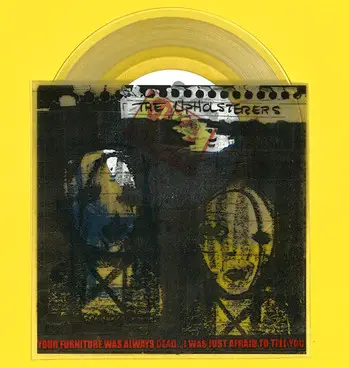 I wonder what this could go for on the open market? And how many other people in the Detroit area will be tempted to tear apart their couches looking for the remaining 98 copies? More at The NME.