Unearthing Some Canadian Hits of the Past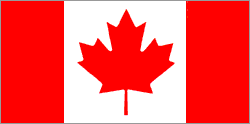 Sean Ross is a New Jersey-based radio consultant with whom I've worked in the past. He has a love of many things Canadian. He told me he was once stopped at customs in Edmonton because the officer didn't believe that he'd fly all that way just for a vacation.
Sean's Canadian interests extend deep into music. Check out what he wrote in this week's Ross on Radio column.
A year ago, I took advantage of the summer lull to salute 10 records that I'd particularly come to appreciate as a result of working with Canadian Oldies and Greatest Hits stations. The first bunch of records leaned heavily to the rock side, a function of what records endure in the format. (I had also tried to keep the first bunch to records that hadn't always been personal favorites, but that I'd come to appreciate recently.) This one is more varied, more pop, and a little more personal. (The title of the article, but not the track listing, comes from a Canadian K-Tel album of the '70s, pictured here.)
Since government-mandated Canadian content became a fact of life in 1971, the Canadian music scene has always done two things particularly well. One is AC-leaning pop—regardless of whether it's in favor in the U.S. at the time. The other is corporate rock (or "melodic rock" if the other term is a pejorative for you). And while it was wrong for some U.S. broadcasters to assume that the Bob- and Jack-FM formats did well because of Cancon, they had a lot of great '80s rock in that genre to choose from, and those songs did indeed become secret weapons for a while.
Here's another dozen or so great Canadian songs that grazed the U.S. charts or missed them altogether. They're in chronological order. If you make it to the end, your payoff is the song that anticipated Katy Perry's "Last Friday Night (T.G.I.F.)" by a decade. Links to the songs are attached, but you can also hear the available songs from this column and the last one on my Spotify playlist, "Sean-Con."