Unwinding the Spin on 2012 Music Sales Figures: I Have Some Good News and Some Bad News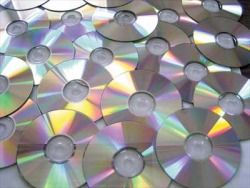 There have been many stories about the American music industry's year-end numbers for 2012 this week.  Most just rattle off the top number in the executive summary:  "Overall music purchases up 3.1 percent! Yay!"
Well, hold on sunshine.  Let's not be spoonfed a spun number.  Let's deconstruct things a little using official Nielsen Soundscan numbers.
FACT:  The overall market for music sales shrank by 4% over 2011 in the US. (Down 2% in Canada).
FACT:  Sales of albums and track equivalents (when people buy 10 single tracks at a time, roughly equal to buying a full album) were down 1.8%.
FACT:  Physical CD sales were down 12.8% in the US in 2011 (Down 12% in Canada).  
(Interesting aside:  Digital sales have now passed physical sales.  The numbers for CDs sold at places like Wal-Mart, Target and Best Buy are now less than the numbers generated by iTunes and other online retailers.  This is big milestone in the lifespan of the CD that's gone under-rereported.)
FACT:  Although digital sales are up (digital albums, +14%, digital tracks up +5%), they aren't growing fast enough to offset the decline in physical sales.  The gap is getting closer, but the industry still hasn't quite got there.  (Same story in Canada where digital albums were up 20% and digital tracks were up 21%.)
However, there is also some good news.
FACT:  Vinyl sales were up 17.7 % in the US in 2012.  The bad news is that if you lump all the vinyl sold in the US last year into one number, you come up with 4.6 million units.  That's a drop in the ocean.  But still…
Courtesy Digital Music News
FACT:  None of the numbers above include revenues from things like subscription services, satellite radio, webcasters and licensing arrangments.  Those numbers won't be released into the spring.
Related articles:
CNET:  Here's Why 2012 Music Sales Don't Tell Full Story
Billboard:  Album Sales Down in 2012, But Digital Shows a Healthy Boost