UPDATE: Tickemaster's Settlement Vouchers
At the beginning of May, I was one of probably millions of Ticketmaster customers who received an email notifying us that we would soon be getting vouchers for either discounts for tickets or free entry into certain, predetermined events. This was all part of a multi-million-dollar settlement, a class action lawsuit I'm willing to bet most Ticketmaster customers didn't now much about.
As noted earlier on this website (here and here), customers—and it appears to be only customers in the US, for whatever reason, though please correct me if I'm wrong—are receiving these vouchers as a way to apologize for those ridiculous transaction fees with which we're all familiar.
There's a long list of conditions with these vouchers, which are either for free tickets to certain shows or for $2.25 off any other ticket.
Here's a sample:
Each Ticket Code may be redeemed for two tickets, with a maximum of two Ticket Codes (four tickets) eligible for use per event.
Each Ticket Code may be redeemed for General Admission seating at designated concert events at Live Nation owned or operated venues as defined on the dedicated website.
The events and venues selected where Ticket Codes may be used will be within Live Nation's sole discretion and may include Live Nation clubs such as House of Blues.
Each Ticket Code may be used only one time. Once used, it will be extinguished and will disappear from the list of Active Vouchers on your account.
A list of events for which the Ticket Codes may presently be redeemed (provided you do so before they have been secured by others) is available athttp://concerts.livenation.com/microsite/settlement.
Tickets purchased using Ticket Codes may be delivered at no charge at will call or by TicketFast. Any other form of delivery may subject you to an additional delivery charge.
Ticket Codes are NOT transferable.
Tickets may be claimed on a first come, first served basis. Once the "free tickets" made available for a specific event have been claimed, you will not be able to use your Ticket Codes to acquire tickets for that event.
This morning, the page came to life with a list of vouchers. Hooray! I've got 11 discounts for $2.25 each and 11 free ticket vouchers.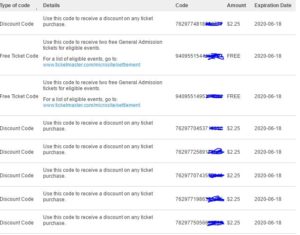 The free tickets include a link to a special website with information on the eligible concerts on which I can use my vouchers.
I'm assuming there will some day be information here, but as of 7:40 p.m. on June 19:

So….Thanks for the offer, I guess. At least those of us who have vouchers have until June 2020 to use them.