Update on Canada's Music Hall of Fame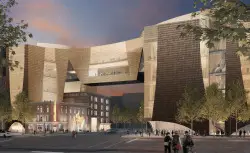 For a country that consistently punches above its weight when it comes to exporting music to the rest of the world, it's a crime that we don't have a place that commemorates and celebrates our accomplishments. Fortunately, that's in the process of changing.
The National Music Centre, a 160,000 square-foot collection of all things Canadian, should have its groundbreaking sometime this year at a site in Calgary. Organizers are well on their way to achieving their funding goal of $132.5 million.
A step towards that is an official name change. The Cantos Music Foundation–the prime catalyst being this project–is now officially known as the National Music Centre. Here's a note from President and CEO, Andrew Mosker:
We began collecting Canada's national music collection in 1997 with a number of Canadian examples of innovations in music technology. We made a big leap forward in the effort with the acquisition of the Canadian Country Music Hall of Fame Collection in 2009," says Mosker. "Our programming, like the recently launched National Jazz Summit, has taken on a national scope and our partnerships, like the one with the Canadian Academy of Recording Arts and Sciences to build the Canadian Music Hall of Fame collection, have all brought us to the point where we are proud to be able to call ourselves the National Music Centre. And this is only the beginning.
I, for one, am looking to visiting this place once it's completed.