Update On Neil Young's Pono System: It's Coming Next Year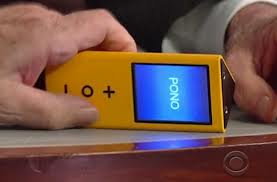 Neil Young really hates MP3s. He things they're over-compressed lo-fidelity pieces of crap that rob the listener of the true richness of the listening experience. And he's 100% correct. Yet MP3s are the dominate file format around the galaxy–and people don't seem to mind that they sound like shite.
But Neil isn't going down without a fight. His new Pono digital concept is aimed at those who want better audio. He's been flogging it for more than a year now. So where are things? Neil posted this on Facebook:
To everyone who loves music –
I'm very happy to bring you some good news. All of us at Team PONO have been focused on getting everything right for our early 2014 launch of Pono.
The simplest way to describe what we've accomplished is that we've liberated the music of the artist from the digital file and restored it to its original artistic quality – as it was in the studio. So it has primal power.
Hearing PONO for the first time is like that first blast of daylight when you leave a movie theater on a sun-filled day. It takes you a second to adjust. Then you enter a bright reality, of wonderfully rendered detail.
This music moves you. So you can feel. That's why so many musicians are behind PonoMusic – this is important work that honors their art. This is the way they wanted you to hear their music.
PONO starts at the source: artist-approved studio masters we've been given special access to. Then we work with our brilliant partners at Meridian to unlock the richness of the artist's music to you. There is nothing like hearing this music – and we are working hard to make that experience available to all music lovers, soon.
Our mission is also to make PONO just as accessible as any music you buy and listen to today. So we'll be launching both the PONO portable player – an updated version of the one I showed on David Letterman's program – and an online library, with all your favorite music available in PonoMusic quality. Everything you need to feel music anew.
Stay tuned for more updates. And be sure to follow us on Facebook and Twitter for the latest information. We hope you'll try PONO when it comes your way, and that it brings you the soul of music.
Yours, for PonoMusic –
Neil Young
(Via GigaOm)