UPDATE: Ticketmaster Lists 450 Shows Eligible for Vouchers
There's not a single Canadian show included on the list of 450 411 concerts for which Ticketmaster customers can use their free or discounted ticket vouchers.
This probably shouldn't be all that surprising, as it seems the vouchers have only been released to US customers. The list does say "US & Canada," but it's also not the first time customers have been, or will feel, mislead.
US Ticketmaster customers received an email Sunday morning alerting them to the availability of vouchers worth either $2.25 off the purchase of a future ticket or a code good for free admission to a list of eligible concerts. When that list was published Tuesday morning, it included 450 shows. By Tuesday evening, that was reduced to 411.
Included on the list of eligible concerts are multiple dates for bands ranging from Def Leppard and the Goo Goo Dolls to Heart and Joan Jett, several country artists like Brad Paisley and Zac Brown (along with Darius Rucker), the "Rockstar Energy Drink Presents Taste of Chaos" package tour and a handful of dates on the Prophets of Rage tour (but not the August 24 show at Molson Amphitheater in Toronto).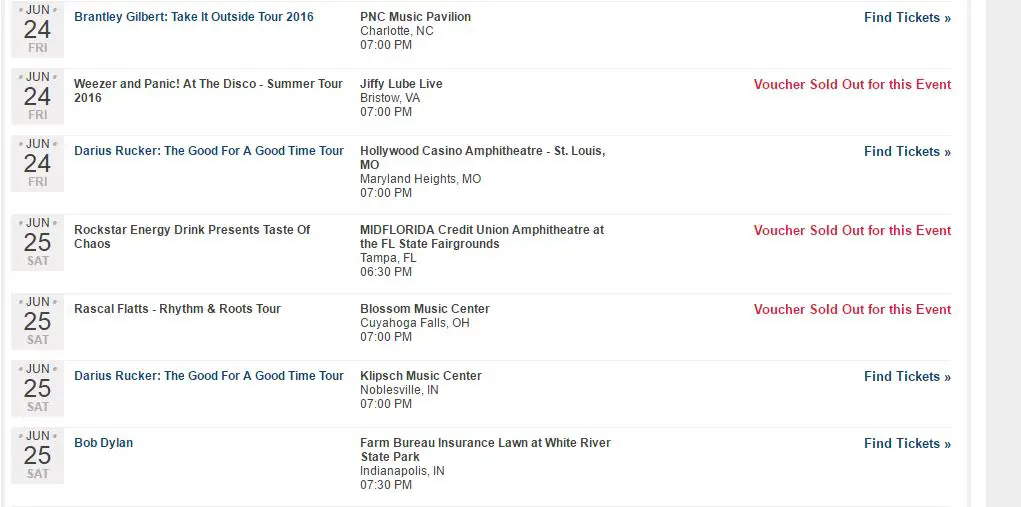 It looks like the same is true for the vouchers and discounted tickets as it is for buying tickets at full price any other day: Nothing's guaranteed.
As The New York Times noted Tuesday, it's unclear whether everyone who received vouchers will be able to use them. "The company said on Tuesday it would provide $10 million in ticket vouchers for concerts through May 2017. How many free tickets become available beyond that amount depends on how many of the $2.25 and $5 discount codes are used. The settlement requires Ticketmaster to pay out $42 million over four years, and no less than $10.5 million per year. Should the use of $2.25 and $5 discount codes fall short of those targets, Ticketmaster would make up the difference by releasing more free tickets."
For more on the Ticketmaster vouchers and the lawsuit that prompted them, read here, here and here.  And if anyone in Canada receives any kind of word about the class action lawsuit or a settlement, please speak up. If there hasn't been legal action in Canada yet, it wouldn't be too surprising to see something happen, given the relative success of the suit in the States.