Vans Warped Tour Toronto 2018: A Review by Nerhys
The final Vans Warped Tour has come and gone in Toronto and wow, what an experience! I needed a few days to recuperate. Now I that I have recovered, here is my review:
The Venue
The last time I went to the Warped Tour was in 2009 when it was held at Arrow Hall on Airport Road. This year, the festival took place at the Flats at Budweiser Stage, the same venue as the 2012 – 2015 Vans Warped Tours (the tour did not come to Canada in 2016 or 2017). I haven't been to the Flats in about 20 years, so I completely forgot just how massive the area is; it's a much bigger venue than Arrow Hall, and once you get used to the layout (and stop relying on the awful map on the back of the schedule that cost $2) it's a much better venue. 
There wasn't a lot of shade, although Fuelled by Ramen Records did have a tent set up for shade, plus there were some umbrellas at a small picnic area. It was a lovely, sunny day, so even though I applied sunscreen pretty religiously, my shoulders still burned a little bit. There were two water stations set up for people who brought their own reusable water bottles, and though the lines at times were long, they moved fairly quick. Same for the bathrooms, where you had the option of going into a proper bathroom with multiple stalls, sinks, and mirrors, or using one of the many port-o-potties. 
Festival goers had multiple food vendors to choose from, such as Pizza Pizza, Fancy Franks, poutine, churros, tacos, greek food, and ice cream, to name a few. There was also vendors selling a variety of alcoholic drinks — something I don't remember from 2009, though maybe I just wasn't paying attention since I was still underage at that point — alongside water, Perrier, and, of course, one of the sponsors, Monster energy drinks. 
The festival had 6 stages set up; 2 on one big one on RBC Echo Beach where the bands alternated on the side that was being used (Vans Left Foot and Vans Right Foot), 2 Monster stages near each other (White Lightning and Red Dawn), 1 by the entrance (Lemon), and 1 by Budweiser Stage (Full Sail University). 
The Bands
I make it no secret that I love pop-punk, emo-pop, and ska. As a teen in the mid-2000s, it's not really surprising that I enjoy those genres. Lucky for me, Vans Warped Tour is filled with pop-punk and ska bands, as well as hardcore and other "alternative" genres. Here's the full list of bands that played in Toronto.
The bands I was most excited to see were: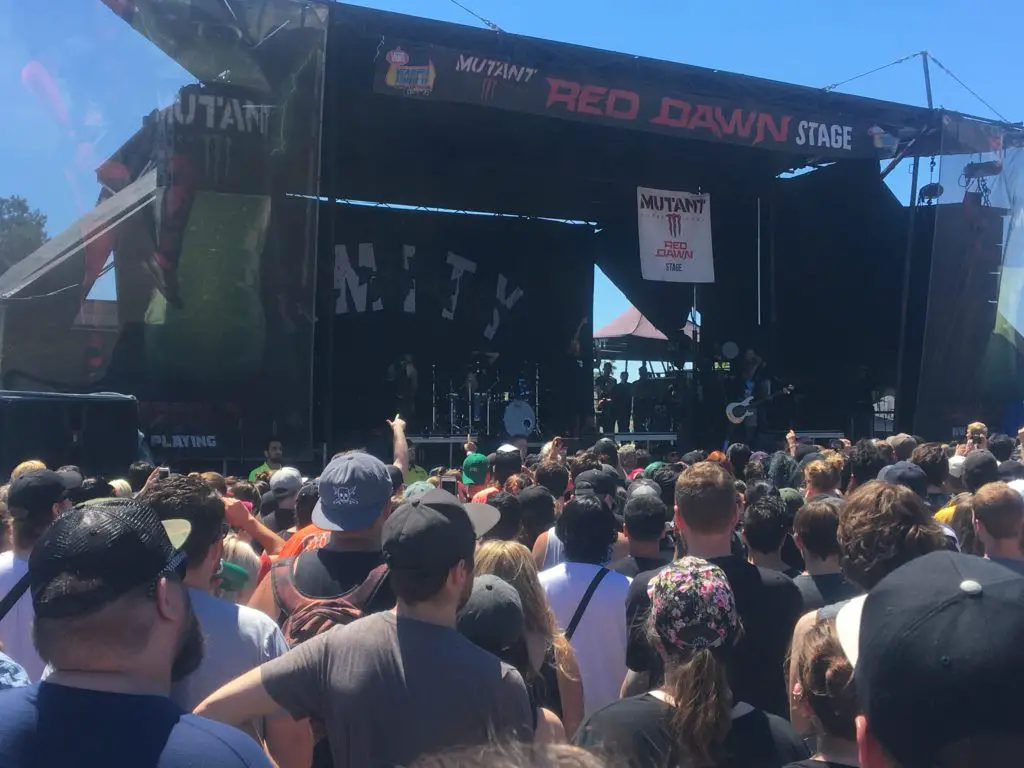 I was also curious about 3OH!3 (Boulder, Colorado; synthpop/crunkcore), Senses Fail (Ridgewood, New Jersey; post-hardcore/emo), and Unearth (Boston, Massachusetts; metalcore).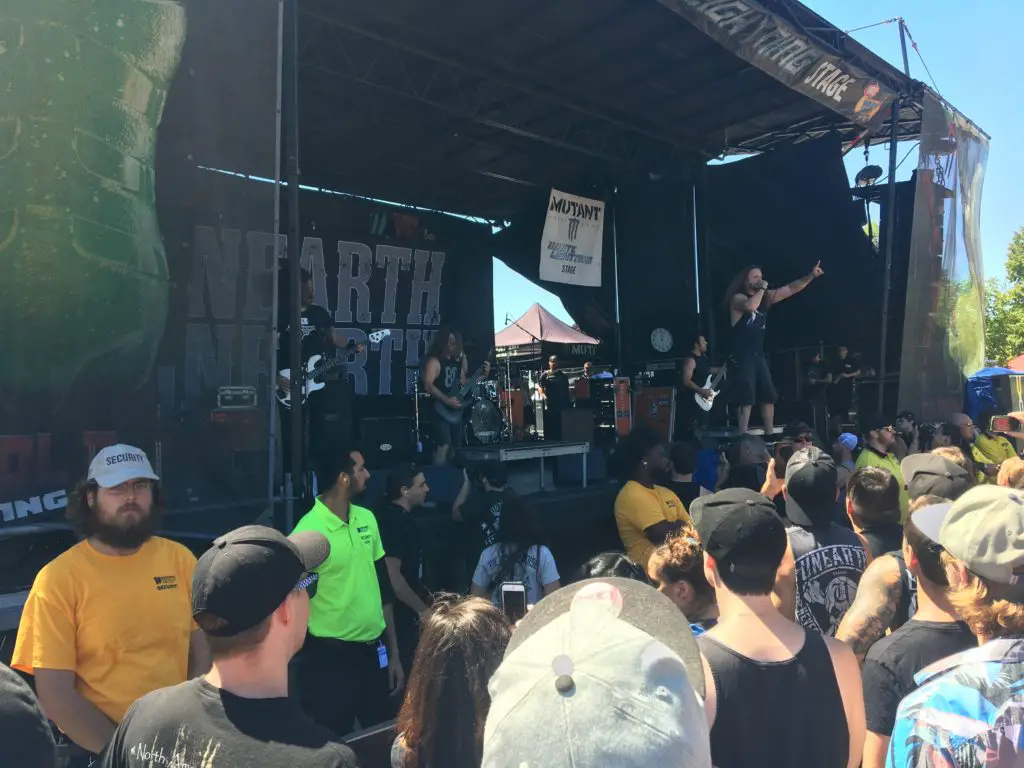 Of all these bands, I've only seen 3OH!3, Silverstein, and Senses Fail in the past; all at the 2009 Warped Tour, however I have seen Silverstein plenty of other times. Silverstein is a band that I have always loved seeing live, they always put on a fantastic show and this time was no different. My one experience with Senses Fail, however, wasn't quite as positive; their set at Warped Tour 2009 was a bit rough and I wasn't overly impressed back then. I do understand that bands can have off days, so I was willing to give them another chance. I'm glad I did because they were amazing this year. 3OH!3 was fun to see both in 2009 and this year. The first time I saw them was probably the height of their career up here, but that didn't stop anyone from dancing and singing along to their music.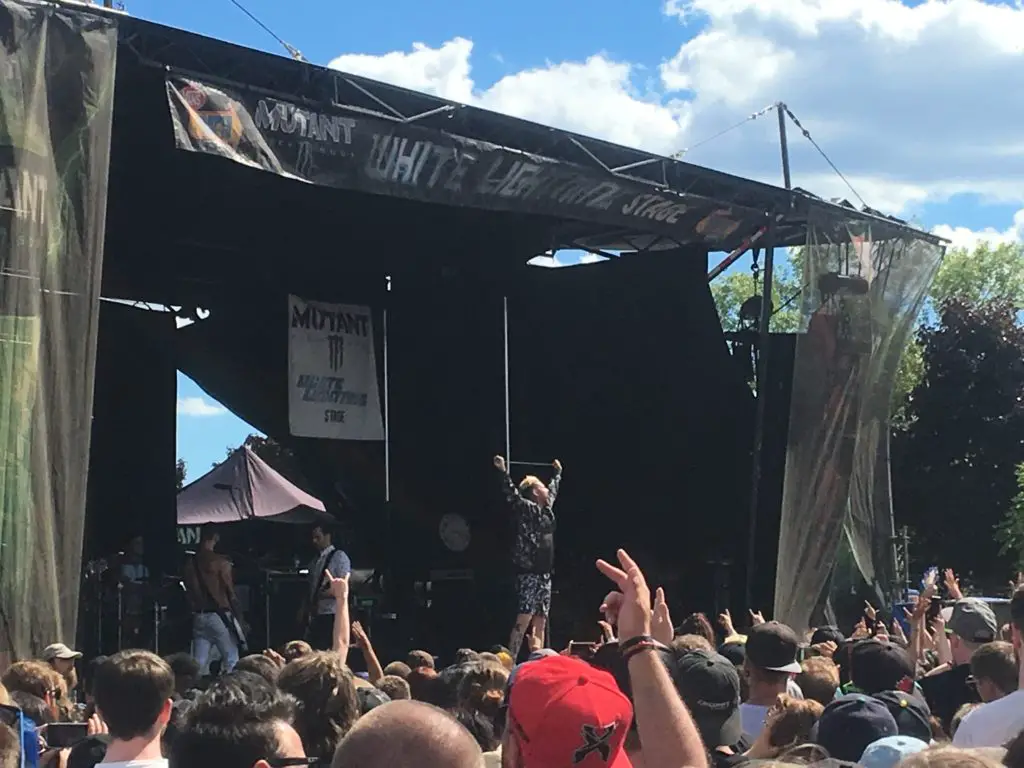 Three of the bands I wanted to check out I only recently heard about: The Amity Affliction, The Interrupters, and We the Kings. I was quite impressed with all of them. The Amity Affliction's brand of metalcore rocked their set. The Interrupters' front woman Aimee Interrupter took command of the stage and showed everyone just how good of a performer she is. We the Kings' pop-punk was just as fun to listen to live as it is on recording.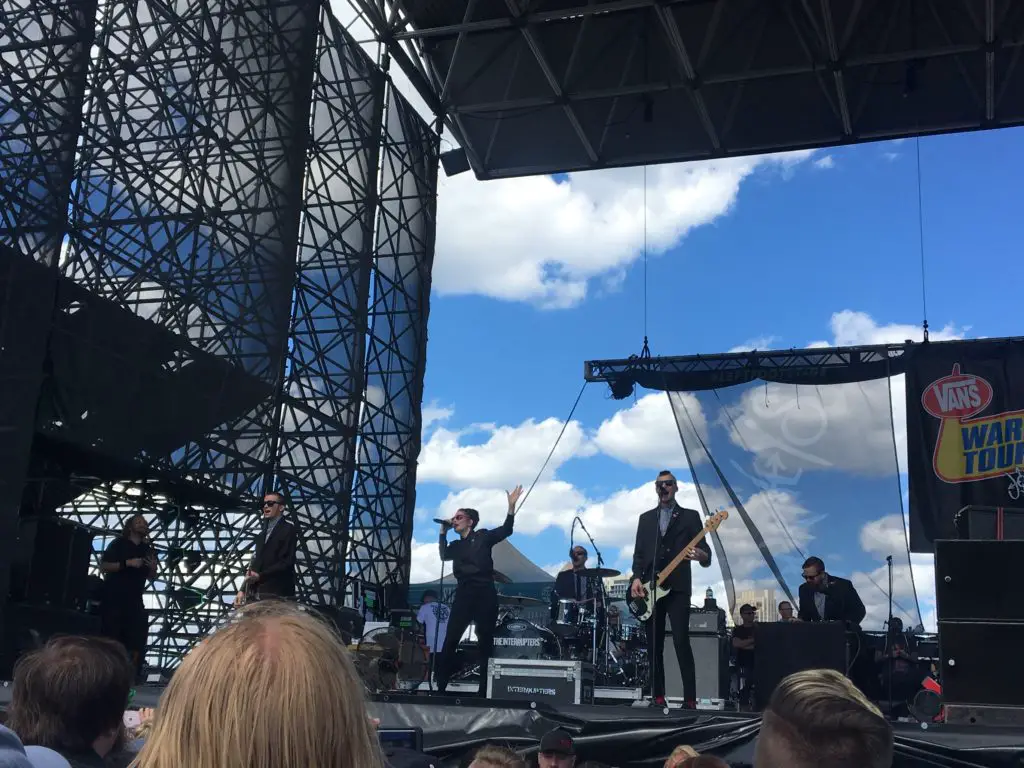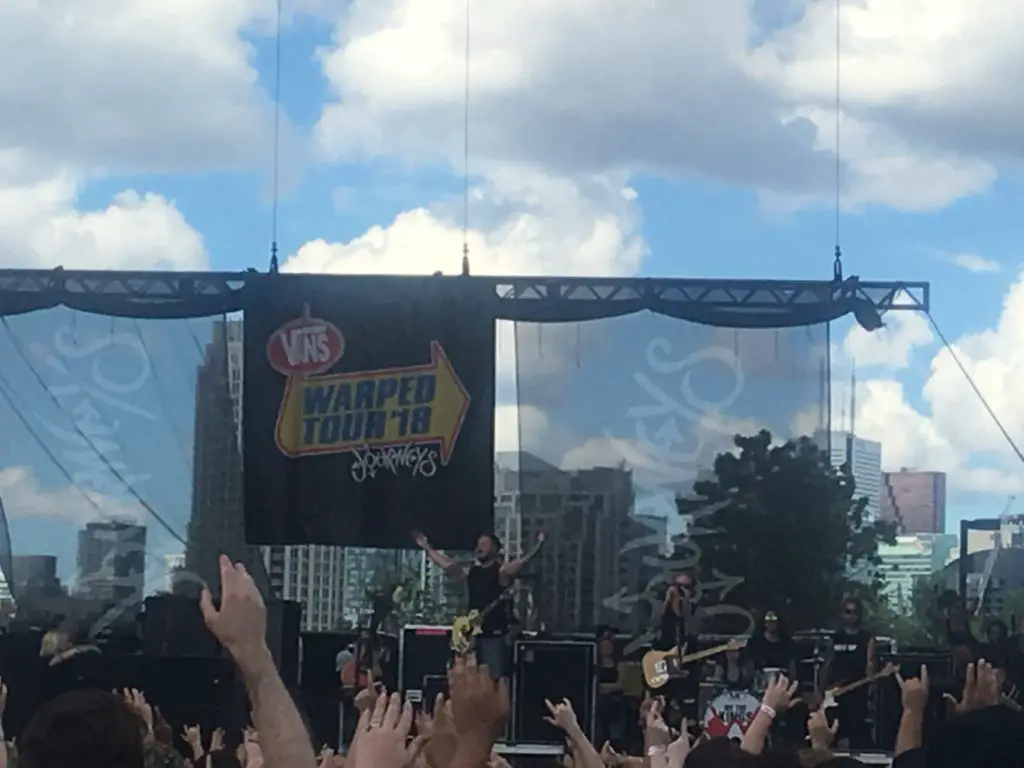 The three bands that I was the most looking forward to, however, were Reel Big Fish, Simple Plan, and Sum 41. I've wanted to see Reel Big Fish for years because I've heard so many amazing things about the shows they put on. Still, anything I've heard did not do the band justice. The whole band looked like they were having a ton of fun on stage. Lead singer Aaron Barrett made jokes and got the audience dancing and singing along. Saxophonist and backup vocals Matt Appleton, aka Saxl Rose, ran around the stage in a lemon yellow suit and sunglasses, with his hair styled up in a mohawk and sporting a massive beard. It was hilarious when he sang the female vocal part in "She Has A Girlfriend Now" (originally performed by Monique Powell of Save Ferris). The entire band played off of one another and that really helped the audience have even more fun.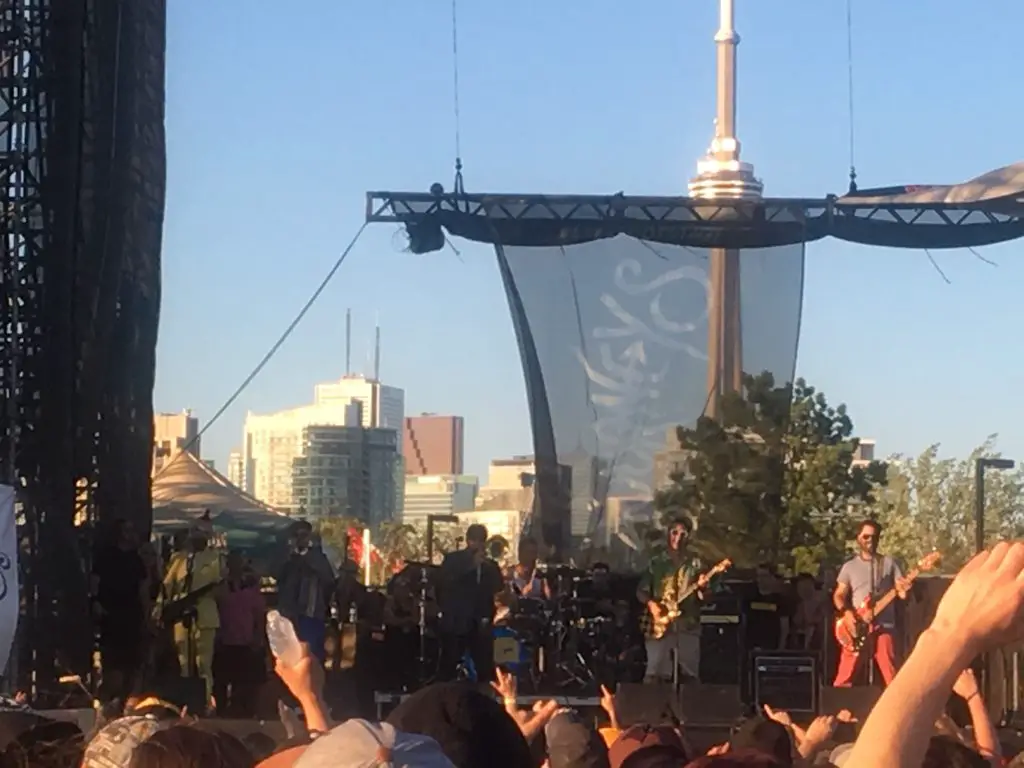 Simple Plan was one of my favourite bands when I was 14 and bought Still Not Getting Any (2004). It would have been a dream come true back then to see them in concert. That little 14 year old pop-punk kid inside me was quite happy that she finally got to see Simple Plan live. The band totally played off of their audience's nostalgia, too, performing songs that haven't been heard on the radio in over a decade and getting the audience to sing along.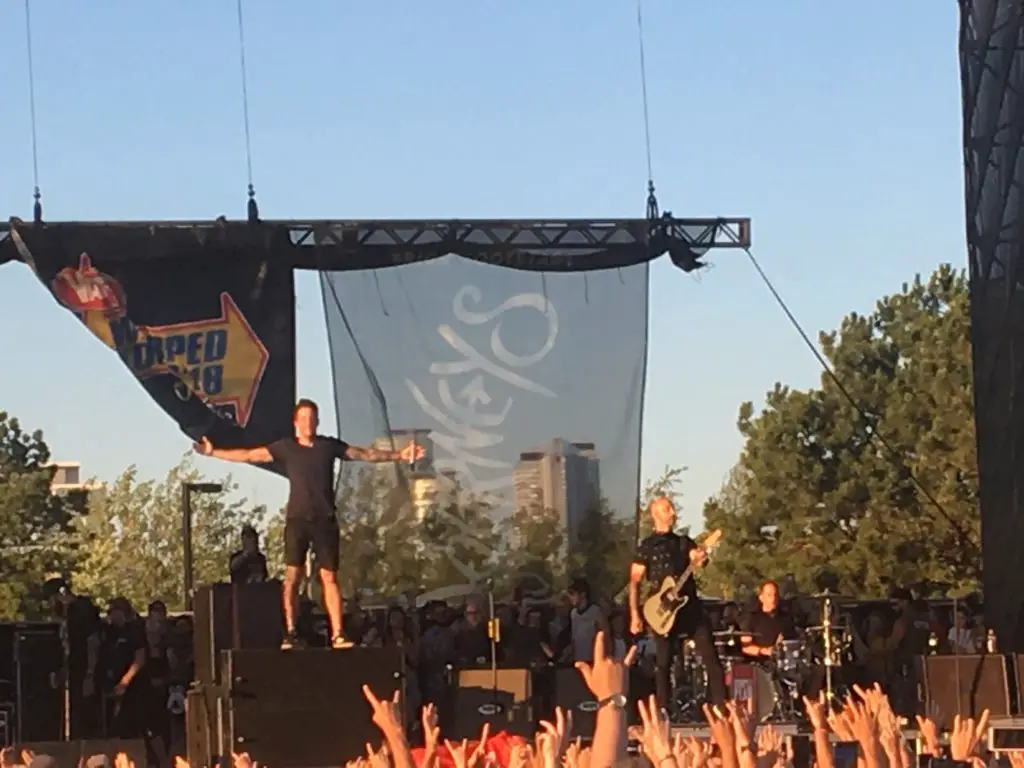 Taking a different approach than the other bands and getting an extra 10 minutes of scheduled set time, Sum 41 played through their 2002 album Does This Look Infected. They managed to get through the track listing in under 40 minutes and even played a couple of other songs. The whole band played with such intense energy that even though their set was in the early evening, I felt energized despite spending all day in the sun. 
The Experience
I couldn't have been more pleased with the overall experience. When I arrived, the lineup was absolutely massive — it must have taken nearly 5 minutes to walk to the end — but it moved quite quickly and there were promoters for a few lesser-known bands. While in line, I also enjoyed people-watching. I felt like I had travelled back in time 10 years with all the emo fashion I saw: black hair accented with bright colours like hot pink, black skinny jeans, studded belts, and plenty of thick black eyeliner. 
Once I got past the gates, the venue's size allowed for the huge crowd to disperse pretty easily. Of course, some areas like the ATMs and drink vendors were busy, but like the entry line, those lineups moved pretty quickly, too. At the start of the festival, I was able to get pretty close to whatever stage I wanted to watch, but as the day went on, more people arrived and the crowds got bigger, making it more difficult to get a spot near the bands. I'm not one who always tries to get right up in front of the stage anyways, and I prefer staying out of mosh pits, so I still really enjoyed watching the bands perform. Even the lines at the food vendors moved pretty quickly, which is always a nice thing. 
I loved that there were plenty of vendors and sponsors selling a variety of products like shirts, jewelry, and pins, in addition to the official Vans tents and all the bands' merch tents. Several different causes, Sea Shepherds, for example, also set up tents. Of course, all the booths that offered items for sale was not exactly healthy for my wallet, but it being the last Vans Warped Tour, I figured it didn't hurt to buy a few things. 
In hindsight, I wish I had spent the money to go to Vans Warped Tour more times in the past. Festival tickets aren't exactly cheap on a student's budget, which was my reasoning for skipping all the years between 2009 and this year. The experience, however, is well worth the cost in my opinion. 
The 23 year life of Vans Warped Tour definitely had its ups and downs, but the final Toronto show was definitely a memorable experience.